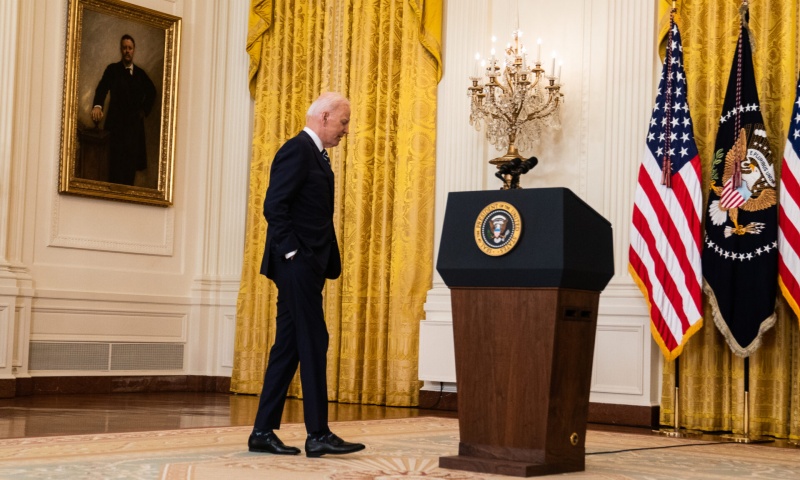 Bayden äkimşiligi Senat qabıldağan zañdı zerttep jatqanın ayttı. Foto: The Washington Post, US President Joe Biden answers questions from reporters during his first formal news conference in the East Room of the White House on March 25, 2021. (Photo by Demetrius Freeman/The Washington Post)
Şıñjañ mäselesi qazirgi AQŞ- Qıtay qatınasında asa mañızdı tüyinniñ biri sanaladı.  Şıñjañdağı etnikalıq azşılıqqa jasalğan qısımdar, qudalau, sayasi lager, mäjbürli eñbek sekildi äreketter AQŞ-tıñ QKP biligin ayıptaudağı bastı qwralına aynaldı.  Onıñ üstine Qwrama Ştattar Şıñjañdağı mäselege qatıstı birqatar jaña zañdar men şekteu şaraların da qabıldadı. Aytalıq, AQŞ Senatı Şıñjañdağı mäjbürli eñbekke jol bermeu jöninde zañ qabıldağan bolatın. Qazir bwl Bayden äkimşiliginiñ jiti qarauında.
Bir kün bwrın Aq üy baspasöz ökili «Şıñjañ mäselesi prezident Baydendi alañdatatın eñ bastı mäselelerdiñ biri» degen mälimdeme jasadı. Onıñ aytuınşa Bayden äkimşiligi Senat qabıldağan zañnıñ jalpı bağıtın qoldaydı, äri äli de zañ-jobasın egjey-tegjeyli qarastıru üstinde.
AQŞ Senatı atalmış zañ jobasın osı jıldıñ 14 şildesinde qabıldağan bolatın, bwl zañ boyınşa importtauşılar Şıñjañ önimderin kirgizuden bwrın onıñ mäjbürli eñbekpen öndirilmegenin rastauğa mindetti. Däleldey almasa «Tariftik zañğa» (1930 jılı qabıldanğan) säykes importtauğa şekteu qoyıladı.
Seysenbi küngi baspasöz mäjilisinde Aq üy ökili Şaki: «Ärine, prezident mırza öziniñ wyğırlarğa qatıstı alañdauşılığın bwğan deyin de Qıtay biligine aşıq aytqan. Atalğan zañ jobası turalı bizdiñ alaböten pikirimiz joq, tek mınanı aytqım keledi: biz Şıñjañdağı adam qwqığın bwzğan jäne qatikezdik jasağan twlğalarğa jauapkerşilikti küşeytu üşin belgili bir qadamdardı jasadıq», – degen.
Aq üy ökiliniñ aytuınşa Şıñjañdağı Qıtay sayasatına qatıstı şaralarda Magnitskiy zañına säykes şekteuler de bar, aytalıq qarjılıq sankciyalar, import pen eksporttı baqılau, kommerciyalıq eskertuler jäne G7 barlıq jahandıq jetkizilim tizbegi mäjbürli eñbek önimderin paydalanbauı üşin şaralar qabıldauğa mindetteme jäne tağı basqalardı qamtidı.