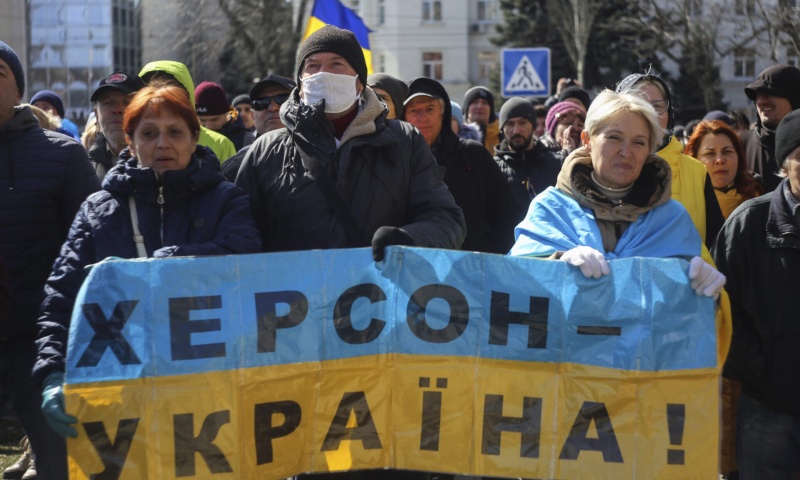 People hold a Ukrainian flag with a sign that reads: "Kherson is Ukraine", during a rally against the Russian occupation in Kherson, Ukraine, Sunday, March 20, 2022. Ever since Russian forces took the southern Ukrainian city of Kherson in early March, residents sensed the occupiers had a special plan for their town. Now, amid a crescendo of warnings from Ukraine that Russia plans to stage a sham referendum to transform the territory into a pro-Moscow "people's republic," it appears locals guessed right. (AP Photo/Olexandr Chornyi)
Resey basqınşıları basıp alğan aumaqtarında «referendumdı» jedeldetu arqılı är üyge barıp dauıs jinau arqılı okkupaciyalağan aumaqtağı Ukrayn beybit twrğındarın ürkitip-qorqıtu tipti jazalau arqılı Ukrainanıñ okkupaciyalanğan aumaqtarın anneksiyalauğa qatıstı jalğan referendumğa dayındıqtı jedeldete aladı dep saraptaydı Amerikalıq soğıtı zertteu institutı.
Atap aytqanda, ukrain halqınıñ qarsılığı basqınşılardıñ «referendum» ötkizu josparların ünemi özgertuge mäjbür etedi. Sonday-aq, ukraindıq äskerilerdiñ qarsı şabuılı basqınşılardıñ josparlarına äser etui mümkin.
Bwğan deyin Melitopol' qalasınıñ meri Ivan Fedorov Reseydiñ federaldıq qauipsizdik qızmeti qarulı toppen üylerdi aralap, jalğan referendum ötkizudi josparlap jatqandarı turalı aytqan.
Sonday-aq, «Üyde dauıs beru partizandıq şabuıl jasau mümkindigin şekteydi. Kreml' kütiletin jergilikti qoldauğa, partizandıq şabuıldardıñ boljamdı qaupine jäne byurokratiyalıq nwsqalarğa baylanıstı ärtürli eldi mekenderde dauıs berudiñ ärtürli türlerin wyımdastıruı mümkin», degen boljam aytıp otırğan ISW  «reseylikter referendum saualdamaları arqılı okkupaciyalanğan aumaqtardağı ukraindıq oppoziciyanı joyu üşin barlau jwmıstarına aynaldıra aladı» deydi.
Resey 11 qırküyekte Herson men Zaporoj'e oblıstarın özine qosıp aluğa bağıttalğan referendum ötkermek dep boljanğan.
Osığan oray Ukraina prezidenti Vladimir Zelenskiy Resey Ukrainanıñ oñtüstiginde jalğan referendum ötkizetin bolsa, kelisssözdiñ bolmaytının ayttı.
Resey bwğan deyin referendum arqılı Qırımdı özderine qosıp alğan bolatın.