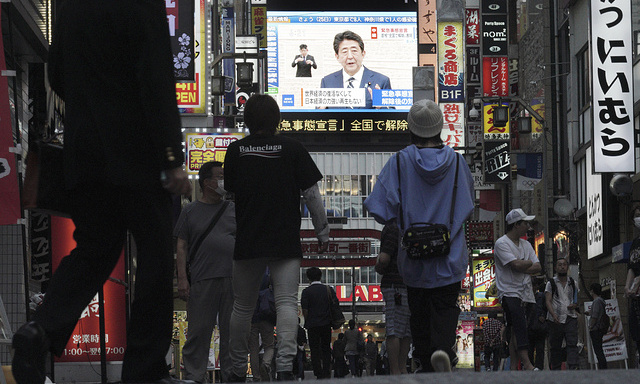 A public tv screen shows Japanese Prime Minister Shinzo Abe speaking at a press conference Monday, May 25, 2020, in Tokyo. Abe announced the lift of a coronavirus state of emergency from Tokyo and four other remaining prefectures. (AP Photo/Eugene Hoshiko)
Japoniyada koronavirus pandemiyasına qarsı engizilgen tötenşe jağday rejimi ayaqtaldı. Biraq virustıñ ekinşi tolqını boluı mümkin. Bwl turalı el prem'er-ministri Sindzo Abe mälimdedi.
Bwğan deyin tötenşe rejim Japoniyanıñ bes prefekturasında: Tokio, Kanagava, Saytama, Çiba jäne Hokkaydoda engizilgen. 8 säuirde Tokioda jäne oğan jaqın ornalasqan Kanagava, Saytama jäne Çiba prefekturalarında, Japoniyanıñ negizgi Honsyu aralınıñ oñtüstik-batısındağı Osaka men Hiogo prefekturalarında jäne Kyusyu aralındağı Fukuoka prefekturasında tötenşe rejim engizildi. 16 säuirde 31 mamırğa deyin bilik rejimdi barlıq aymaqta küşeytti.
Soñğı mälimetter boyınşa, Japoniyada koronavirus jwqtırğan adamdardıñ sanı, onıñ işinde Diamond Princess kruiz kemesinde bolğan nauqas sanımen qosa eseptegende, 17,3 mıñnan asıp, 850-den astam adam qaytıs boldı. 13,8 mıñnan astam adam sauıqtı.