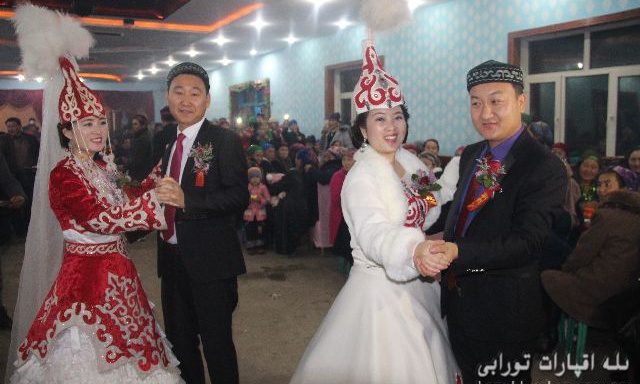 Тойында қазақша киініп алған қытай ұлтының жас жұбайлары
While surfing the internet we encountered quite a surprising article in the "Ile gazeti" newspaper about a Chinese couple wearing a Qazaq dress at their wedding. The newspaper article had a very descriptive story of a Chinese man, who celebrated the weddings of his two daughters in Qazaq style, in a winter pasture of the Ulkenbura village. If Qazaqstan (also spelled "Kazakhstan") were a superpower, we could have just smiled at this news story. We could have taken it as a sign of respect for our culture and traditions - I say this, because for strong and great nations this is a common thing. We could also have taken it as in line with our traditions that value generosity and openness to the external world. However, we shall take a dive into the content of the article. The wedding had been nicely planned with guests from various ethnic groups, including: Qazaqs, Chinese, Uighurs, Dungens, etc. nationalities.
The ballroom, where the wedding party took place was decorated in a very traditional Qazaq style: Qazaq carpets were hung on the walls, Qazaq songs and traditional music was played. Then two Chinese brides wearing Qazaq traditional wedding dresses and tall headwear (saukele) came into the ballroom accompanied by two Chinese men. The men were also wearing traditional Qazaq men's headwear with Qazaq ornaments.
As it is commonly accepted in Qazaq culture, all weddings or big festivals start with a bata (blessings) from an elderly attendee, this event was not an exception. An 80 year old man performed the bata. According to the article, a local ethnic Qazaq police officer attended the wedding with his wife. The couple did not come to the wedding with empty hands, they brought the brides' parents "shapans" (traditional Qazaq coat). It is a common tradition to bring to such big festivals "shapans" for elderly people. This time the brides' father received a "shapan" and the brides' mother a silk headscarf. This serves as a sign of deep respect and honor (for men) to be gifted a "shapan" at a festival or when people bring it to you when they visit. They say, the roar of applause made the walls shake when the couple made their toast and expressed their well-wishes to the just married couples, standing with their Chinese parents in traditional Qazaq dresses.
Without further speculation, let me get back to the text of the article in the newspaper, "A teacher from Aqqoi high school YerkinSlambekuly was brilliant serving as the Master of Ceremony in two languages (Qazaq and Chinese). He also sang nice songs. Bilingual toasts, songs and dances in various languages once again demonstrated the strong sense of great friendship and solidarity of nationalities in this country".
Obviously, there is nothing wrong with the words "Great friendship and solidarity of nationalities". However, we know that the statement "Great friendship and solidarity of nationalities" serves best the Chinese and not Qazaqs. We can recall Soviet era slogans like this, which transferred Qazaqstan into the "Laboratory of friendship". The consequences of the Soviet experiments in the "Laboratory of friendship" can be seen today in Qazaqstan. Anyway, I do not want to talk about the past. I would like to get back to the "fun stuff at the wedding", in the Kishibura village where more than 3000 residents and over 800 families live. About 80% of the residents are ethnic Qazaqs, 13% are ethnic Uighurs, and 11% are the ethnic Chinese. The Chinese brides' parents are local residents, who grew up there from childhood and who know and respect Qazaq traditions. At first glance everything is fine. Isn't it how it should be? I have to insert a meaningful and strong "but…". But we must look deeper and try to understand the long-term goals of the Communist government of China, which has launched a policy of intermingling with ethnic minorities by means of interacting, even to the extent of becoming relatives. The Chinese government is conducting a campaign/policy of presenting China as the "Home of great friendship of nationalities". The ultimate goal of this policy is to intermingle with ethnic minorities by ways of having one wedding or a festival in Qazaq or Uighur tradition and another in Chinese tradition. This way the whole process of "Mergers and acquisitions" of minorities by the Chinese nation will go fully smooth.
Nowadays, in Xinjiang province and in many places throughout China they are having multi-ethnic festivals, especially in the places where there are many Qazaq communities. Frankly speaking, this campaign is hiding its real long-term goal of fully assimilating the minority Qazaq nation into Chinese culture behind a nice mask of "Great friendship of nationalities." These days, Qazaq families in the Urumchi area have one adopted ethnic Chinese boy per household. These adopted boys are the warriers of the Red Chinese Army. They are the "products" of the "Great friendship of nationalities" policy. These adopted boys' duty is to look after elderly and young children in Qazaq families or simply help with household chores. It is not hard after all for such a boy in several years to become a Godfather of one of the boys or girls in the Qazaq families. Thus, they become the family member.
In short, the article highlighting the Chinese wedding culturally appropriating Qazaq traditions is that this is a way to get closer to the Qazaq families with the aim to fully assimilate Qazaqs into Chinese culture both culturally and racially. Today we had a wedding in Qazaq style, tomorrow there is to be another festival in the Chinese traditions. To achieve the Chinese government's goals, eventually every Qazaq family is to give their daughter as a bride to a Chinese family. Otherwise the idea of the "Great friendship of nationalities" policy will not be promoted. Slowly but surely Chinese traditions will infiltrate into Qazaq culture. This means the minority nation of Qazaqs in China will forget and lose their traditions. The younger generation of children from mixed/multi-ethnic marriages will not know their Qazaq traditions. Thus, we should not be happy about a few Chinese weddings in Qazaq tradition - if we do not want to lose our national identity. Those who lost their spiritual culture and traditions, i.e. their national identity will not be able to differentiate what is his and what is foreign, what is acceptable and what is unacceptable.
This is a beginning of tragedy, a tragedy for Qazaq society. It will not be surprising if in a few years the Chinese start implementing the same policies and implementing the same tactics in the neighboring small villages in Qazaqstan. It will be easier to achieve by then since they have already successful precedents across the border. In fact, the Chinese have been thinking and carefully planning this for some time. Their job right now is to show "fine examples" of such intercultural marriages in the Xinjiang province, which will open the doors to Qazaqstan. That is the whole secret. I just wanted to remind of it and call for vigilance.
 «The Qazaq Times»