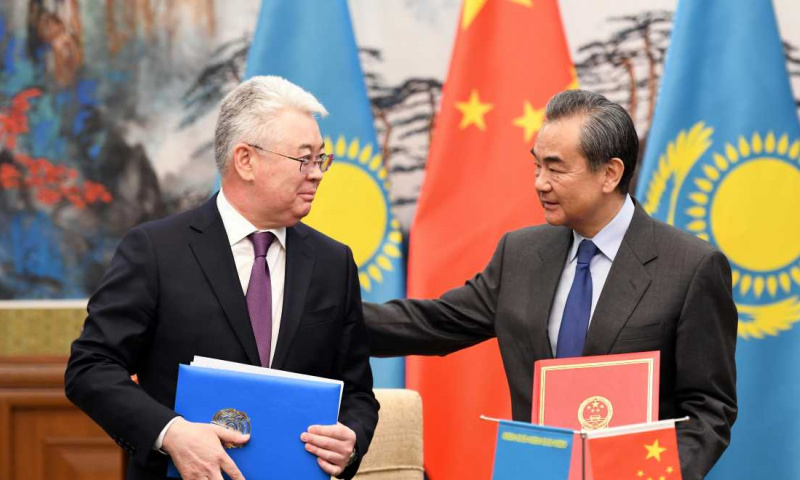 Атамқұлов пен Уаң И Бейжіңде кездесті. Фото: ҚР СІМ ресми сайты.
The Foreign Minister of Kazakhstan Beibit Atamkulov is having an official visit to China, reports the press service of MFA.
Beibit Atamkulov met with the member of the State Council, Foreign Minister Wang Yi. During the meeting, parties talked about the issues of further development of Kazakhstan-China political trade and economic, cultural and humanitarian cooperation and shared views on a wide range of issues of the international agenda.
Moreover, they focused on practical interregional and cross-border cooperation of two states, industrial and investment partnership, digitization and technological modernization of the economy. During the meeting, great attention was paid to the efficient synergy of the Silk Road Economic Belt initiative and the Nurly Zher new economic policy and integration programs of the Eurasian Economic Union.
In addition, the issue of situation with ethnic Kazakhs who are living in China was the important part of the negotiation. Mutual interest in resolving emerging issues through working contacts between the Foreign Ministries of the two countries was stressed and an agreement was reached on the revitalization of consular services.
Generally, information about pressure on ethnic minorities in China, including the Kazakhs, has been informed since 2017. Kazakhs-migrants from China repeatedly appealed to Astana with a request to intervene in the situation and help rescue their relatives from custody.
Recall, it is worth noting that during a few years , China has been under the scrutiny of the international community in connection with reports of the oppression of ethnic minorities in Xinjiang and their forced placement in institutions that Beijing calls "educational centers", and human rights activists  "political re-education camps".