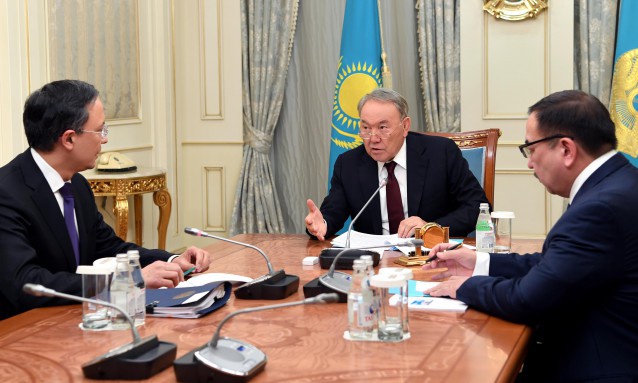 Президент Нұрсұлтан Назарбаев Сыртқы істер министрін қабылдады. Фото: Akorda.kz.
Kazakhstan officially handed over a note to China. This was announced yesterday by the Foreign Minister of Kazakhstan, Kairat Abdrakhmanov, when he answered the questions of journalists. After the confirmation of Kazakh people repression in China, the Ministry of Foreign Affairs handed the first diplomatic note between Kazakhstan and China. On February 14, President Nursultan Nazarbayev of Kazakhstan received the Minister of Foreign Affairs.
As stated by the Foreign Minister Kairat Abdrakhmanov: "We are keeping this case under control. Relatives of detained citizens in China provided us with the necessary information. After confirmation of this information, we sent officially a diplomatic note to the Chinese side through diplomatic channels. After receiving the Chinese response, we will deliver it to the citizens of Kazakhstan. We are closely connected with relatives of Kazakh people detained in China, we even know their names ".
President Nursultan Nazarbayev gave task to the Ministry of Foreign Affairs concerning the ethnic Kazakhs' case in China in the World Kazakhs Congress in June. The pressure and persecution of Kazakhs in China was not stopped even after the intervention of the MFA.
The diplomatic note addressed to China is the first note between Kazakhstan and China. In the future, we will wait for the exact answer from China. This is of great importance not only for the future of our Kazakh people in China, but also for the further development of the Kazakh-Chinese relations.
Translated by Nazerke Syundyukova