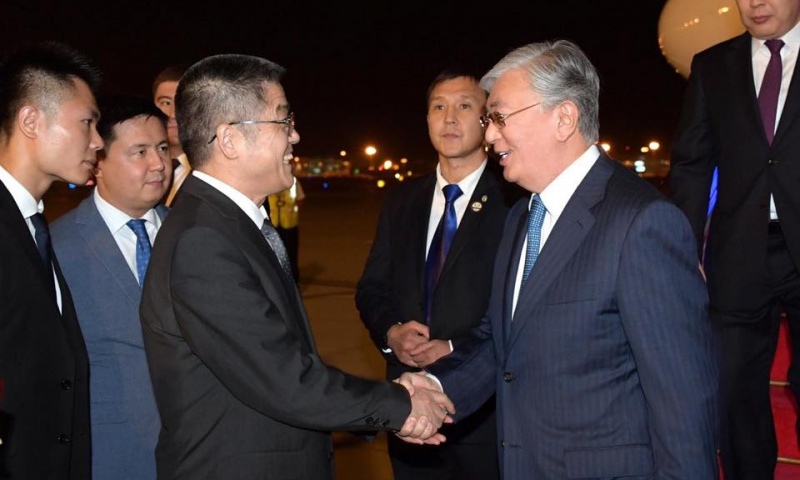 ҚХР өкілі Қазақстан президенті Тоқаевты салтанатты түрде күтіп алуда. 10 қыркүйек 2019 жыл. Фото: Берік Уәли
President of Kazakhstan Kassym-Jomart Tokayev arrived on a two-day visit to China on September 10. Press Secretary Berik Uali wrote about on his Facebook. According to him, it is expected that Tokayev will attend the opening of the sixth meeting of the Kazakhstan-China Business Council.
Talks are also scheduled with Chinese President Xi Jinping and Chinese Premier Li Keqiang, as well as a series of meetings with political and business circles in China.
Tokaev's first visit to China after taking office is taking place against the backdrop of protests in cities of Kazakhstan against the implementation of joint projects with China that began at the beginning of last week.
Besides, on September 2, about a hundred people took to the streets in Zhanaozen, Mangystau region. They demanded, among other things, that Tokayev abandon his planned visit to China on September 11-12. In the cities of Almaty, Nur-Sultan, Aktobe and Shymkent last week, solidarity actions were held with fewer participants.
In addition, the demonstrators, in particular, called on the Kazakh authorities to abandon the implementation of the Kazakh-Chinese intergovernmental agreement on the construction of 55 enterprises in Kazakhstan in the field of agriculture and industry. The protesters in Zhanaozen again gathered on the city square on September 9, demanding that "China's expansion" not be allowed, which, in their opinion, is expressed in the construction of joint ventures in the oil-rich former Soviet republic. Participants in that demonstration called on the government of Kazakhstan to seek investment from Western countries.