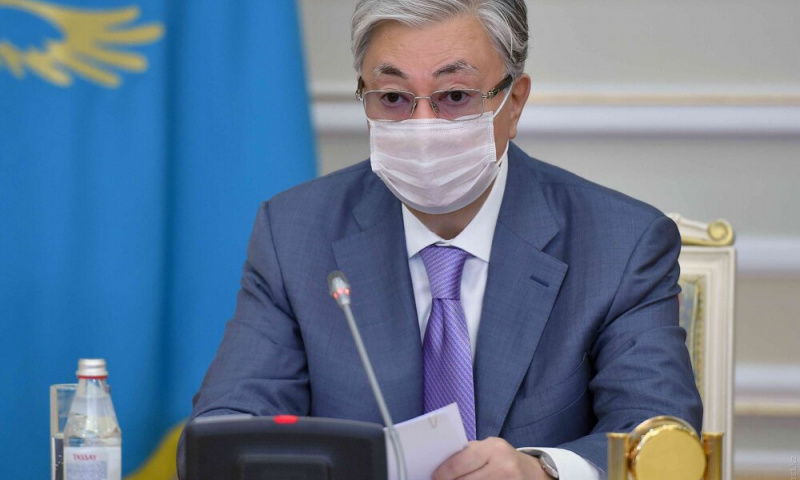 The President of Kazakhstan, Kassym-Jomart Tokayev said on the evening of July 16 on Twitter that the government had been tasked to determine the statistics of the coronavirus pandemic against the background of an increase in the number of hospitalizations with pneumonia and deaths from it.
"In addition to the coronavirus, pneumonia causes great damage to the health and lives of citizens", - Tokayev said. He added: "All data on the situation with the pandemic, no matter how sad they may be, should be said publicly".
According to official data, 66.8 thousand cases of COVID-19 infection have been registered in Kazakhstan, more than 40 thousand patients are considered recovered. According to the data cited by the head of the Ministry of Health Aleksey Tsoi on July 14, the number of deaths reached 396. The website that publishes statistics on the course of the coronavirus epidemic in Kazakhstan has not updated information on mortality since the beginning of the week and shows a figure of 375 deaths.
The country is also experiencing an outbreak of pneumonia and an increase in deaths from it. The number of cases is estimated at tens of thousands, deaths in hundreds. In the official statistics of COVID-19, despite the arguments of doctors that this epidemic is also a consequence of the coronavirus, these data are not included.
Vice Minister of Health Ludmila Burabekova said earlier this week that the Ministry of Health is "working on the data'". "We made a request, we will receive a response from the World Health Organization and through negotiations we will come to the data that must be taken into account", -  said Burabekova.
"Each country has its own path in statistics and accounting, we want to bring it into uniformity and move with all countries", the local media quoted of the Vice Minister of Health of Kazakhstan as saying.
The number of hospitalizations and deaths from pneumonia, in which a test for COVID-19 is negative, has risen sharply since the beginning of summer. According to the Ministry of Health, 628 people died of pneumonia in Kazakhstan in June, almost a third of the 1,772 who died from this disease in the first six months. At a government meeting on July 10, Health Minister Alexey Tsoi said that 39,702 cases of pneumonia were registered in the country from July 1 to July 8, which has a similar course to coronavirus infection.
The World Health Organization believes that pneumonia of unclear etiology in Kazakhstan is most likely a form of coronavirus infection that was misdiagnosed.
Kazakhstanis express doubts about the reliability of official statistics and information on coronavirus infection.