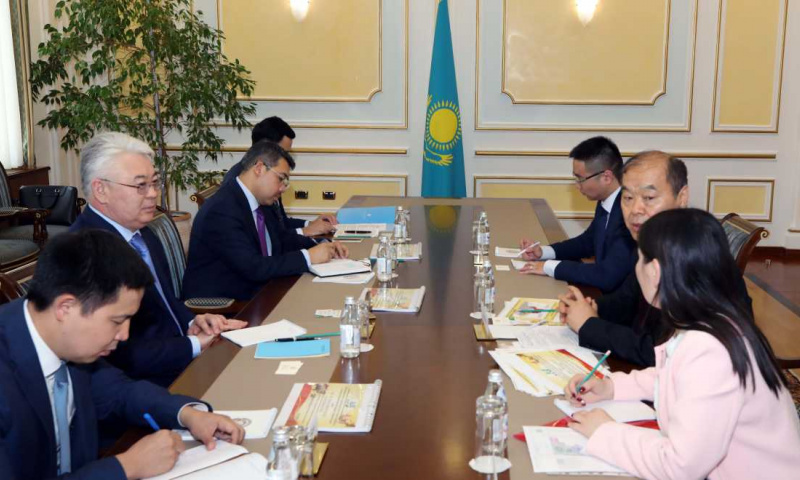 Photo: Mfa.kz
The Ministry of Foreign Affairs held a meeting with large Japanese corporations that are interested in implementing joint investment projects with Kazakh partners, reports the press service of Kazakh MFA.
The heads of Japanese companies visited various regions of Kazakhstan, including Nur-Sultan, Almaty and Atyrau, to learn more about the business environment and economic opportunities across Kazakhstan. Noting the high potential of trade and investment relations between the two countries, the Japanese businessmen expressed hope for fruitful investment cooperation with the Ministry of Foreign Affairs.
Investors from Japan are planning to build a reinforcement bars production plant in the Atyrau region. During the visit, the Japanese delegation inspected the future construction site and familiarized themselves with the work of the industrial petrochemical technopark.
Besides, it should be noted that Japan is one of the key strategic partners of Kazakhstan in East Asia. Trade between the countries in 2018 reached $2 billion, including exports amounting to $1.5 billion and imports worth $497 million. From 2005 to 2018, the inflow of Japanese investments into the Kazakh economy amounted to $5.8 billion; in 2018 alone, the gross inflow of investments from Japan amounted to $403 million.
In addition, there are currently more than 70 enterprises in Kazakhstan with the participation of Japanese capital. This includes projects in the chemical, engineering, infrastructure, agriculture, mining and metallurgical industries, creating high-tech manufacturing and jobs.