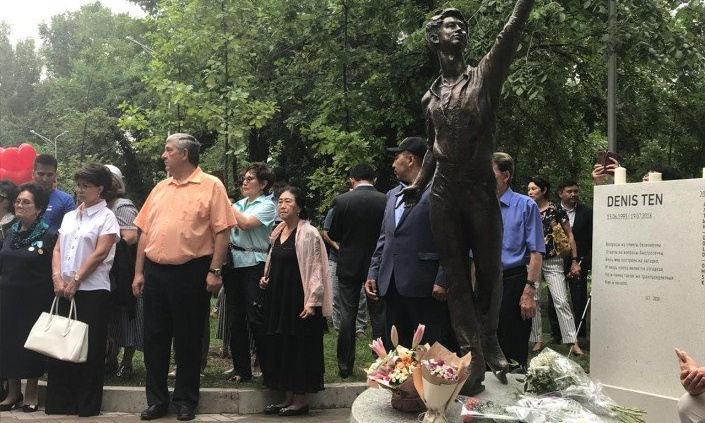 Photo: inalmaty.kz
A monument to the deceased figure skater, Olympic medalist Denis Tenu is unveiled in Almaty. It was installed at the place of death of the athlete, at the intersection of Baiseitova and Kurmangazy streets.
The author of the sculpture is Matvey Makushkin from St. Petersburg (also known as the creator of the monument to Viktor Tsoi, installed in Almaty in 2018).
The ceremony was attended by the parents of the deceased, cultural figures and athletes, including Olympic boxing champion Yermakhan Ibraimov and world weightlifting champion Ilya Ilyin.
Denis Ten, bronze champion of the Olympic Games, winner of numerous international tournaments, was killed on July 19 of last year in Almaty. Criminals trying to steal the mirrors from his car severely wounded him with a knife. Because of the great loss of blood, doctors could not save him. The crime caused a great resonance in Kazakhstan, became the reason for criticism of the police and calls for the resignation of the leadership of the Ministry of Internal Affairs of the country.