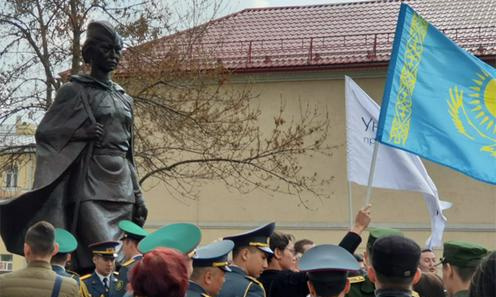 Photo: kazembassy.ru
A monument to Hero of the Soviet Union Aliya Moldagulova has been installed in St. Petersburg on the eve of the 74th Anniversary of the World War II Victory.
The monument is located in one of the squares west of the house number 5 on the same street in the Krasnogvardeysky district of the city. The sculptural composition of bronze with a height of 3 meters is mounted on a pedestal of pink granite.
The creation of the monument was made possible thanks to the joint efforts of the government of St. Petersburg, the Embassy of Kazakhstan in Russia, and the akimats of the Aktobe and Atyrau regions. The author of the project is the famous Kazakh sculptor Edige Rakhmadiyev.
In addition, Aliya Moldagulova was born in 1925 in the village of Bulak (Aktobe region of Kazakhstan). During the Second World War, she served as a sniper in the 54th separate rifle brigade of the 22nd Army of the 2nd Baltic Front, disabling more than 70 enemy soldiers and officers. She died in early January 1944 during the Leningrad-Novgorod operation. In June of the same year, Aliya Moldagulova was posthumously awarded the title Hero of the Soviet Union.