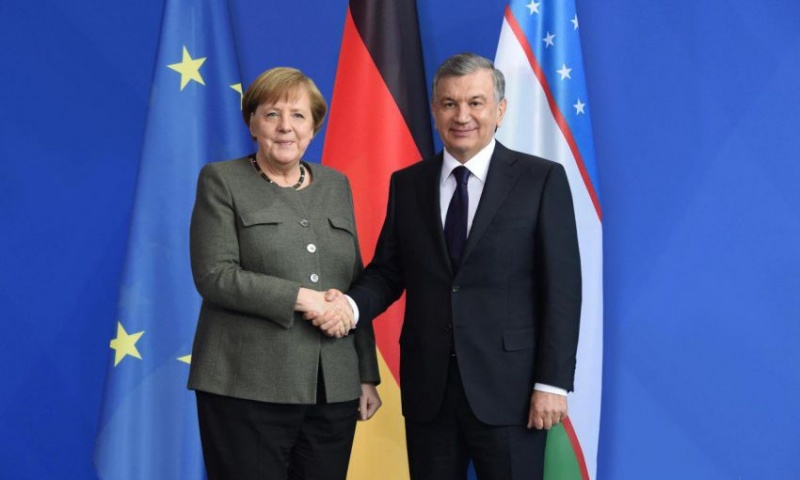 Photo: gov.uz
Following the results of the Uzbek-German business forum in Berlin, agreements were reached on the implementation of new projects worth more than 8 billion euros, reports the press service of Uzbek government.
Angela Merkel noted that this visit of the President of Uzbekistan after a long break is important and will give a powerful impetus to development of bilateral cooperation.
"We want to be a reliable partner of Uzbekistan. We see many opportunities for expanding cooperation between our countries", – said the Federal Chancellor.
Shavkat Mirziyoyev expressed deep gratitude for high attention paid to the delegation of Uzbekistan and congratulated everyone on the 70th Anniversary of the Federal Republic of Germany, which will be celebrated in May this year.
Interest was noted in further close cooperation within the framework of the United Nations, the Organization for Security and Co-operation in Europe and other international structures.
It was emphasized that the new Strategy of the European Union for Central Asia will serve to strengthening bilateral cooperation.
The parties expressed their willingness to expand investment and technology cooperation. It was noted that on the eve of the visit of the President of Uzbekistan, a business forum was successfully held, following which agreements were reached on implementation of new projects worth over 8 billion euros, activities continue on other agreements. In addition, the trade turnover between two countries made up 700 million euros last year.
Recall, it was reported earlier that the President of Uzbekistan met with the Federal Chancellor Anglea Merkel. During the visit, 9 intergovernmental and interdepartmental documents were signed.