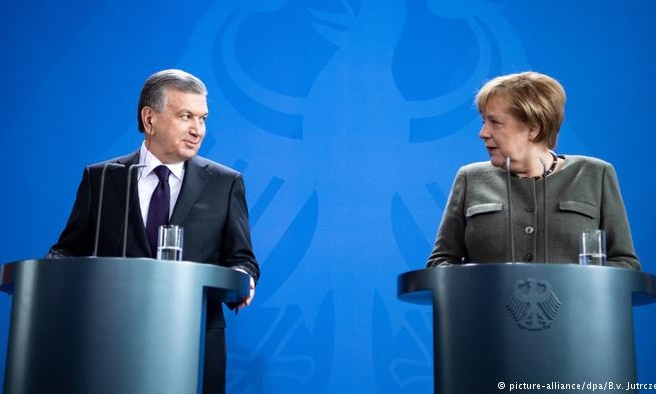 Фото: DW
The President of the Republic of Uzbekistan Shavkat Mirziyoyev held negotiations with the Federal Chancellor of Germany Angela Merkel, reports the press service of Uzbek President.
Angela Merkel welcomed the new regional policy of Uzbekistan on creating in Central Asia the atmosphere of friendship and mutual trust, peaceful resolution of perennial disputes and integration of the region into the global economy.
Shavkat Mirziyoyev noted that Uzbekistan sees in Germany, which is a world power with a huge economic potential, one of the key partners in technology and investment.
The parties, noting the dynamic expansion of bilateral trade, which amounted to more than 700 million euros, emphasized the presence of all the possibilities for growth of this indicator to 1 billion euros.
132 enterprises with participation of investors from Germany are operating in Uzbekistan, including 33 enterprises with 100% German capital, representative offices of 31 companies. The National Bank of Uzbekistan has established correspondent cooperation with 57 German banks. Deutsche Bank's branch operates in Tashkent.
It was noted with particular satisfaction that during the visit, agreements were reached on implementation of new multi-billion-dollar projects in partnership with Germany's world-class companies: Siemens, Thyssen Krupp, Klaas, MAN, Knauf, Linde, Pappenburg, Humana, Volkswagen – leading in chemical, construction, energy, metallurgical and food industries.
It was noted that more than 8 thousand ethnic Germans live in Uzbekistan. Conditions for development of their national culture and traditions are created. There are over 400 thousand students in the country who are learning German. Recently, schools in Tashkent, Samarkand and Bukhara were named after great scientists and thinkers of German culture.
During the visit, 9 intergovernmental and interdepartmental documents were signed in the spheres of economy, trade, finance, education, science and innovations.