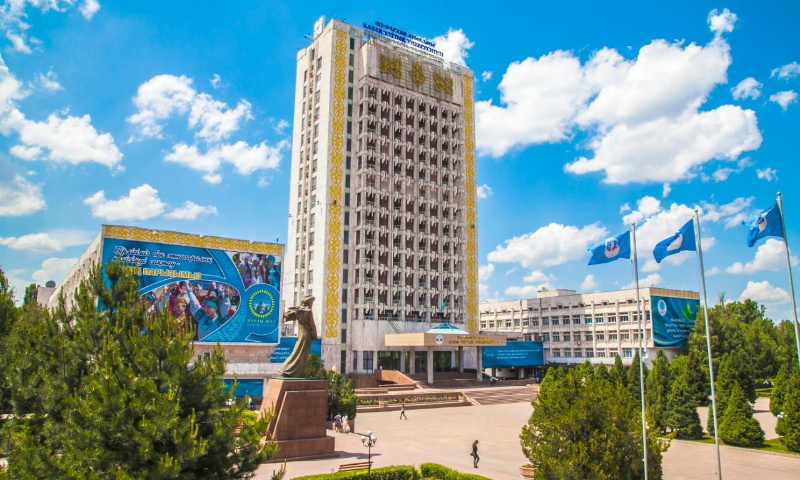 Maintaining ties with graduates is an integral part of the ideological and educational work of Al-Farabi Kazakh National University.  As the recognized in worldwide educational space the leading Kazakhstani research center of Al-FarabiKazNU closely monitors the fate of his graduates who are actively involved in the social, scientific and educational life of alma mater.  Meetings of graduates held annually on May 30 - a good tradition of KazNU, they bring people together, fill their hearts with good feelings.  This event, which is now online, this year is dedicated to the 1150th anniversary of the great scientist of the East - Abu Nasyr al-Farabi.
The meeting at the Department of UNESCO, International Journalism and Media in the Society of the Faculty of Journalism was opened by the head of the department, Professor Nazgul Shyngysova.  In her speech, she emphasized the importance of rallying graduates, told them about the success of the department over the past year, the introduction of new technologies in the learning process, and plans for the future.  According to the professor, department places high hopes on its graduates.
One of the organizers of this meeting, the senior lecturer of the department, SharipaNurzhanova, noted that in the upcoming academic year, it is planned to pay more attention to working with graduates, attracting them to cathedral affairs.  First of all, graduates should be invited to meetings with students in order to familiarize themselves with the practical component of work in the chosen specialty.  If possible, the department would like to develop feedback-invitations of students to visit state institutions, the media and public organizations in which graduates of the department work.
Speaking at the online meeting, Chargé d'Affaires of Kazakhstan in Georgia, SultanaliGulmira and representative of the US Embassy in the Czech Republic YerzhanKarabekov shared their views on the development of international journalism in Kazakhstan, and the head of the public relations department  The Research Center of Obstetrics, Gynecology and Perinatology of the Ministry of Health of the Republic of Kazakhstan AluaMyrzakhanova talked about the work of social media in emergency situations.  The editor-in-chief of the newspaper "Kazakhstan dauirі" ErtayAygali, a well-known journalist, politician AmirzhanKosanov, the professor at Kristianstad University (Sweden) Indira Chellstrand (Tabildy), President of the Association of Turkic-speaking Journalists NaziyaJoyamergen in their speeches rises the level of modern theory of science and technology using the creative experience of the older generation. The guests also exchanged news and discussed professional issues, warmly recalled the years of their studentship, wished the department further prosperity. Concluding the meeting, the head of the department, Professor Nazgul Shyngysova, expressed hope for further fruitful cooperation and strengthening the community of graduates, wished them professional growth and interesting meetings.
 Press Service of UNESCO, International Journalism
and Media in Society department