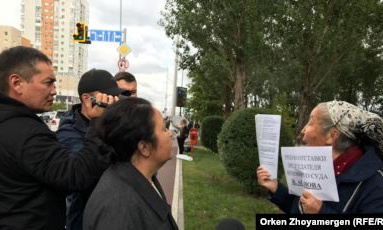 On Monday, September 9, a series of single pickets have taken place in Nur-Sultan. The participants of the picket making different kind of demands.
About a dozen picketers told the reporter of the Azattyk that they disagreed with court decisions or actions of law enforcement agencies affecting them or their relatives.
At the House of Ministries, picketers unfurled posters and leaflets criticizing individual judges and prosecutors. At least a few picketers are holding leaflets or posters demanding the resignation of the chairman of the Supreme Court, Zhakip Asanov.
Police officers who were in place, according to a reporter, did not interfere with the protesters. However, later, representatives of the akimat arrived at the site, who told several protesters that their pickets were unauthorized.
In addition,  a variety of pickets demanding political, social and other changes have been going on in Kazakhstan since the beginning of the year.