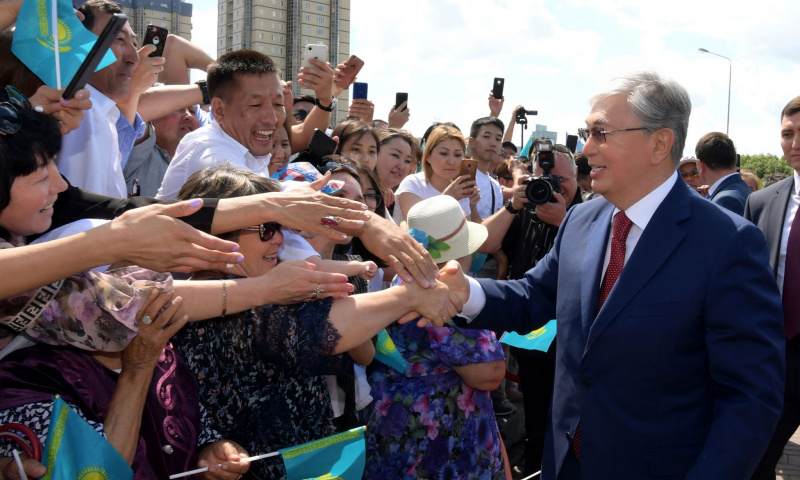 The Head of State has participated in the solemn ceremony of raising the national flag, according to the tradition of opening celebrations dedicated to the Capital City Day, wrote akorda.kz.
- At the moment when the banner of Kazakhstan soars high above the ground, our hearts are filled with a sense of pride in our country, for all the achievements we owe our independence to! Since its establishment, our capital has become a visible embodiment of the success of Kazakhstan's model of development, said Kassym-Jomart Tokayev in his speech.
Addressing graduates of higher military educational institutions, the Head of State stressed that today the flag of Kazakhstan is known all over the world as a symbol of a peaceful and balanced policy aimed at ensuring security and stability in the region and on the entire planet.
- In today's difficult geopolitical situation, our warriors in various trouble spots honourably fulfill the peace support mission. Officer ranks are honored only by people who work with complete dedication, are distinguished by high integrity standards and steel hard discipline. The state will always create conditions for the country's professional armed forces to be aligned with the times. Security of Kazakhstan directly depends on your high-quality work, Kassym-Jomart Tokayev addressed the young officers with the words of encouragement.
During the ceremony, 27 'A' grade students, graduates of higher military educational institutions received shoulder knots from the President of Kazakhstan - the Supreme Commander.
In conclusion, Kassym-Jomart Tokayev congratulated all those present on the upcoming the Capital City Day and wished  Kazakhstan's nation peace and prosperity.