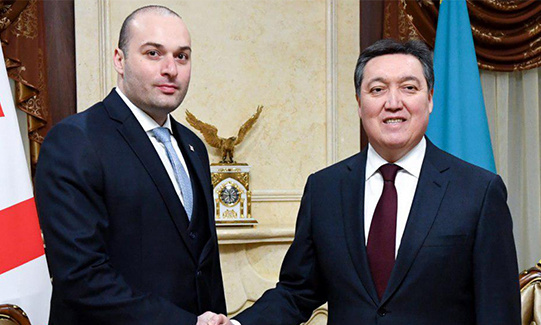 Photo: government.kz
The Prime Minister of Kazakhstan Askar Mamin had a meeting with the Prime Minister of Georgia Mamuka Bakhtadze in Nur-Sultan. He arrived in capital to take part in the XII Astana Economic Forum.
During the meeting, the two sides discussed results of the tenth meeting of the Intergovernmental Commission on Trade and Economic Cooperation. The foreign trade turnover between Kazakhstan and Georgia grew by 34,6% to 100 million dollars in 2018. So, the parties expressed their intention to achieve trade turnover of 300 million dollars.
"Our common task is to realize all the projects and opportunities that can increase the volume and give a new impetus to the trade interaction of countries", - said Askar Mamin during the meeting.
Besides, two Prime Ministers paid attention to develop transit and transport cooperation, including in the framework of the development of the Trans-Caspian International Transport Route. Transit traffic on this route for the period from 2015 to 2018 increased by more than 13 times. This year it is planned to increase the volume to 120 thousand containers.
Therefore, two sides signed a number of documents, especially, a roadmap on expanding the range of mutual trade turnover for 2019-2022; protocol on making amendments to the Agreement on International Motor Traffic dated March 6, 2007; a Memorandum of Understanding between the Ministry of Agriculture of two countries;  Memorandum on Cooperation in Social Protection and Labor between the Ministry of Labor of Kazakhstan and Georgia.