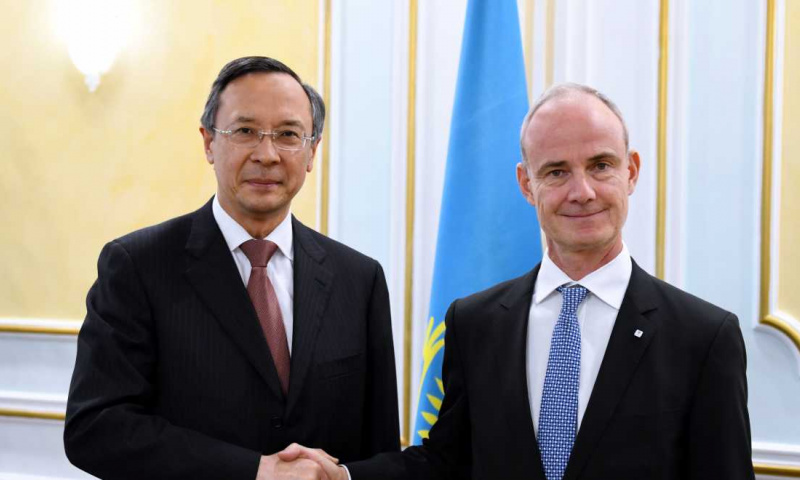 Photo: Mfa.kz
Minister of Foreign Affairs of the Republic of Kazakhstan, Kairat Abdrakhmanov, received Vice-President of the International Committee of the Red Cross (ICRC), Gilles Carbonnier, who arrived in Astana to present the ICRC President Peter Maurer's 'Appeal to States, Global Leaders and Citizens', regarding "Averting a Global Catastrophe", reports thw website of Foreign Ministry of Kazakhstan.
The Red Cross representative commended the role of the President of Kazakhstan, Nursultan Nazarbayev, in nuclear disarmament and the country's mediation in resolving a number of crisis situations.
The sides discussed cooperation between Kazakhstan and the Red Cross, the contribution of the Astana process to resolving the situation in Syria, humanitarian assistance to Afghanistan, the activities of the ICRC in conflict areas, as well as further development of interaction, taking into account the experiences of Kazakhstan in the UN Security Council.
Mr. Abdrakhmanov noted the recent initiative of the Kazakh leader to establish a dialogue between China, the United States, Russia and the EU in the form of a special UN session, which could be held in Astana, to solve pressing challenges of economic and political confrontation between the leading countries of the world. Such a dialogue is aimed at ending the sanctions confrontation and trade wars, building confidence, fighting terrorism and addressing other modern challenges and threats in order to ensure sustainable development, overcome poverty, and help the developing world.
Mr. Abdrakhmanov also noted that the ratification process of the agreement between the Government of Kazakhstan and the ICRC on the opening of a representative office of the Red Cross in Kazakhstan is at the final stage. It is hoped that with the opening of the ICRC Representative Office, the existing positive cooperation experience will be maintained, new areas of cooperation will develop, and the partnership will result in practical steps.
The Vice President expressed gratitude for the support the Committee has received from Kazakhstan. He also endorsed the expansion of mutual cooperation at the national and regional level, including with regard to the implementation of joint projects in Afghanistan, and the training of Kazakhstan peacekeepers and law enforcement officers.
During the visit of Mr. Carbonnier to Astana, the Ministry of Foreign Affairs, the International Committee of the Red Cross and the Embassy of Switzerland in Kazakhstan coordinated the official presentation of the Geneva Human Conventions of 1949 and their Additional Protocols translated into Kazakh for the first time.
The presentation was attended by representatives of the government agencies, the diplomatic corps, higher educational institutions, as well as representatives of Kazakhstan and foreign media.