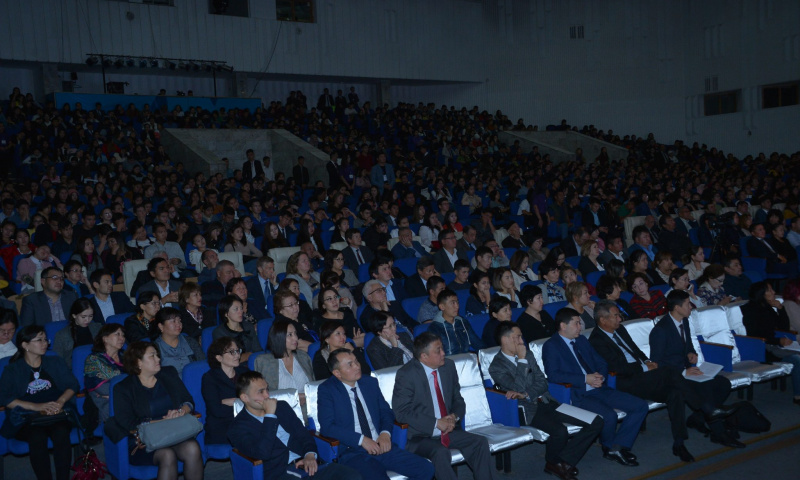 Al-Farabi KazNU aims to become one of the leading universities in the world. Such universities determine development of their countries as well as entire regions and provide personnel to key industries and spheres of leading economies, - said the University Rector Galym Mutanov during a reporting meeting with population.
Rector spoke in detail about the directions of university's activities, its achievements and strategic tasks facing by many thousands of scientists, teachers and students. It was noted that KazNU purposefully follows the course of transformation into a world-class research university. This year the University once again advanced in the QS international ranking and took the 220th place among the best universities in the world. From the CIS countries only two universities entered this group - KazNU and Lomonosov Moscow State University.
«KazNU actively works to increase its international competitiveness and implement tasks set by the President of the country to enter the top 200 best universities in the world. 90 percent of the University's educational programs are successfully accredited by international accreditation agencies. A number of educational programs have the European quality mark «EUR-ACE® Label. KazNU is the only university that implements more than 70 double degree programs with leading foreign HEI's», - highlighted the leader of KazNU in his report.
Within the framework of state development programs aimed at modernizing the economy and training the personnel for the industry 4.0, fundamentally new educational programs have been introduced in KazNU in this academic year such as: «E-Commerce», «Digital Linguistics», «BIG DATA», «Artificial Intelligence», «Geoinformatics»,«Internet of thing», «Bioinformatics», and etc. In addition, a Program on Islamic Finance and Banking is being implemented jointly with IFCA and Benhalif University (Qatar). Training in English is conducted in 162 specialties.
The University is becoming a center of excellence, a mutual transfer of innovation between real production, science and education. Large high-tech corporations actively participate in research and educational activities of the University. 16 scientific and educational centers of world companies have been established and successfully operate in KazNU as «Hewlett-Packard», «Cisco», «Koniсa Minolta», «Fujitsu», «Samsung», «Alcatel», «Microsoft», «Kaspersky Lab», «Huawei», «SAP» and etc.
During the reporting meeting before population, Galym Mutanov answered questions by Almaty residents, media representatives, teachers, students and their parents. They also took into account their wishes and suggestions and gave instructions to the relevant services.