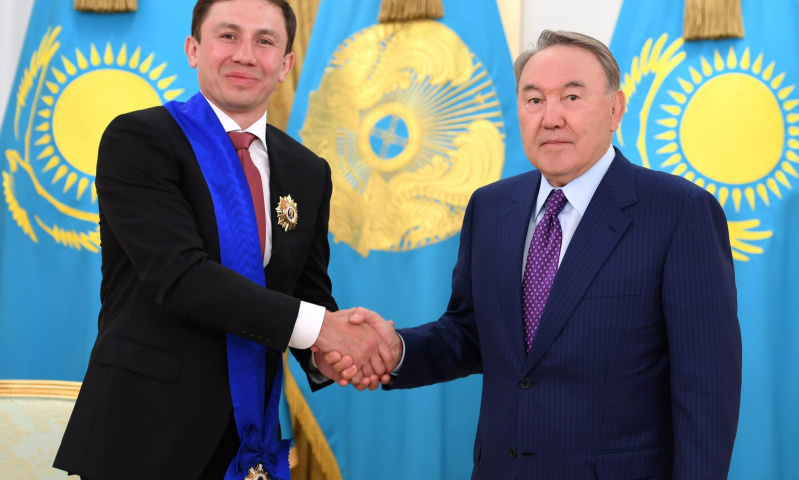 Photo: Akorda
Kazakh President Nursultan Nazarbayev met today with WBC, WBA (Super) and IBO middleweight champion Gennady Golovkin, reports the Akorda press service.
During the meeting, President Nazarbayev greeted the Kazakh boxer and noted all Kazakhstanis are proud of him and his achievements in the professional boxing.
"You are a great ambassador of Kazakhstan, you always remember about your Motherland and talk about it all the time. We are proud of you. A very important fight will happen in September. On behalf of all Kazakhstanis I wish you success in that fight," Nursultan Nazarbayev told Golovkin.
The Kazakh leader also praised the athlete for promoting sport in Kazakhstan and enhancing the country's image on the international arena.
Nazarbayev also pointed out that Golovkin is unbeatable in his weight division and if there is an opportunity to hold a fight in Kazakhstan he will help make it happen.
Gennady Golovkin, in turn, thanked Nursultan Nazarbayev for his personal support and understanding and making a huge contribution to the development of sport in Kazakhstan.
He awarded President Nazarbayev with his WBC, WBA (Super) and IBF champion belts.
Wrapping up the meeting, Nazarbayev honored the boxer with the Order "The First President of the Republic of Kazakhstan -Leader of the Nation Nursultan Nazarbayev.