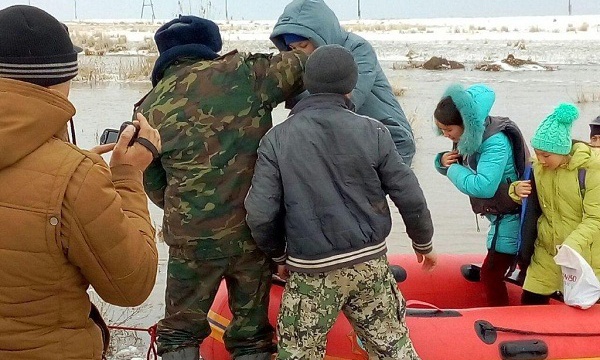 Фото: emer.gov.kz
Due to the heavy rainfall and rising river water, the bridge connecting the Kurhshum village and the village of Topterek in the East Kazakhstan region was flooded. This was reported by the press service of the Committee for Emergency Situations of the Ministry of Internal Affairs.
"There is no threat to the regions, but residents of the village of Topterek is isolated from the outside world. Now the road is closed. About 4 kilometers from the scene to Topterek village. Rescuers of the eastern regional airmobile operations rescue team together with Kurshum district police and with the district akimat provide foodstuffs and transportation for people", - written in the statement.
Earlier, the mayor of East Kazakhstan region Danial Akhmetov visited the affected place. He criticized the works Oskemen city akimat relating to flood.
"Danial Akhmetov estimated the situation and underlined the irresponsibility of local officials for their work. Moreover, he ordered to correct the situation in Satbayev avenue within an hour. It should be noted that all the affected people will be assisted", - written in the statement.
It is worth to note that in the East Kazakhstan region, as a result of continuous rainfall and snow melting, some settlements are flooded and people are moving to a safe area.
Translated by Nazerke Syundyukova