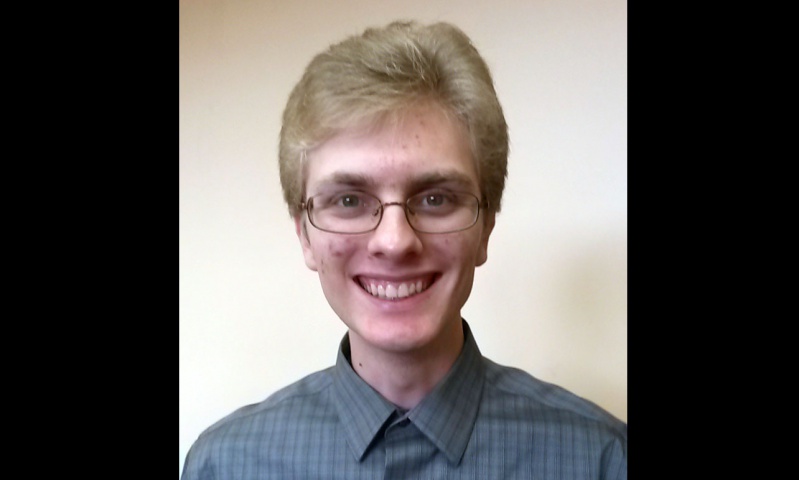 Matt Garnett, He study at Haslett High School. Michigan, United States
I'm in Michigan at Michigan State University  in East Lansing, USA. I am visiting-scholar in the College of Communication Arts&Sciences, School of Journalism at MSU.Recentlythe Center for European, Eurasian and Russian Studies at Michigan State University organized an event for the Turkic world. During the break, there was Turkic cuisine. I was sitting with scientists from all over the world.  An American came up to me.He introduced himself as Matt Garnett. "Did you come from Kazakhstan?" he asked. When I replied "Yes," he said he loved Kazakhstan. I shared some news about Kazakhstan. He also knows about Kazakhstan's transition to the Latin alphabet. The break was over and the event continued. Although the next event is over, my researchexperience continues.I received a letter from Matt on my Facebook account. "Do you know about this Kazakh song?".The song "Kisi zhyry"(Кісі жыры), singing with dombra.I am also grateful to Matt, who is interested in Kazakh traditions.Moreover, when you are abroad, you are more than happy to hear a positive view of your country.  I invited him to be interviewed to talk about Kazakhstan. To your attention, an interview with Matt Garnett, He is from East Lansing, Michigan, United States. He studyat Haslett High School.
 - Hello, Matt! You said «I love Kazakhstan!», so this was the main reason for our interview. Thank you for your respect formy country.
- You are welcome. It's a pleasure to be here and I'm so proud of your country and the way it has gone forward since its independence in 1991. Thank you for inviting me here.
- What was the reason that you like Kazakhstan? Why do you love Kazakhstan? How did you learn about Kazakhstan for the first time? What do you know about Kazakhstan?
- As I mentioned in the first answer, one reason I love Kazakhstan is because of the way it's gone forward and developed since independence in 1991. Kazakhstan is a good friend of the United States. The Kazakh people are very kind. Every time I meet someone from Kazakhstan, I always have a good experience talking with them about their country and other topics. I love the culture and music that comes from Kazakhstan. I learned about Kazakhstan when I was 11 years old. I was first getting interested in Turkic countries at the time. I know some information about Kazakhstan, but I wouldn't call myself an expert.
- Do you talk with your family and friends about Kazakhstan? What do they think about Kazakhstan?
- I've mentioned Kazakhstan to my mother a couple of times. I talk to my uncle about it sometimes since he has been to Kazakhstan at least 6 times. I've talked to my friend from Spain about Kazakhstan. I believe that they have positive thoughts about Kazakhstan. My mom likes the idea of the cold weather and snow in the winter there.
- Do you know/watch/read any news about Kazakhstan? What can help you to learn more about Kazakhstan?     
- I read«Kazinform»international news agency and I sometimes check the «Akorda» page. I look at many Kazakh news sites and webpages. That's something that helps me learn more. Plus I have Kazakh friends that I can talk to about Kazakhstan.
- I am glad that you asked me about the history of the Kazakh song. Are you interested in Kazakh songs? How much do you listen to Kazakh songs? What Kazakh songs do you listen to? What do you think about Kazakh songs?
- I am very interested in Kazakh songs. I listen to Kazakh songs on regular occasions. One of my favorite Kazakh singers is Sara Tynyshtygulova and AynurQalay. Kazakh folk music is my favorite. The instruments and the way they sing is something I find very appealing.
- I noticed that you are also interested in Kazakhstan's national music instruments? What do you think about this? What national Kazakh musical instruments do you know?
- I honestly don't know the names of Kazakh musical instruments. I just look up Kazakh folk music on YouTube and I just see the instruments being played on the video or on the record.
- You mentioned that you like Kazakh language and the sound of the word. Have you ever learned the Kazakh language? What Kazakh words do you know?
- I've learned some Kazakh words on occasion like "Salemetsizbe?" and "QalyngyzQalai". Kazakh is a Turkic language. I'm learning Turkish on an app called Duolingo and I plan to take Turkish classes with my friend Professor Timurbey within a couple years. When I learn Turkish, it will help me pick up other Turkic languages like Kazakh, Azerbaijani, etc.
- I have noticed that you have a flag of Kazakhstan. Where did you get the flag? How important is this flag for you?
- I got the Kazakh flag from my Grandma Jackie. She gave it to me for Christmas in 2016. The flag is very important to me because it's a symbol of national pride of the Kazakh people and it's one of many symbols of Turkic peoples. I don't have any family ties to Turkic peoples, but I enjoy the Turkic culture and the Turkic world very much.
- As I learnt you are in close contact with the Center for the European, Russian and Eurasian Studies? What do you do at the center?
- I'm part of the Turkish Committee at the Center for the European, Russian, and Eurasian Studies headed by Professor Timurbey and Honorary Consul Nurten Ural. We try to plan events relating to Turkey or other Turkic countries. I'm trying to organize an event related to the Karabakh War which is an Azerbaijani issue. I'd also like to organize an event related to Kazakhstan in some way like maybe Independence Day or some other special Kazakh holiday. I want to do the same with the other Turkic states; Uzbekistan, Kyrgyzstan, and Turkmenistan.
- Do you have friends or know anyone from Kazakhstan?
- I have some friends from Kazakhstan. I think about four or five.
- If you go to Kazakhstan, where would you go first? What do you want to see and know in Kazakhstan in the first place?
- I would go to Astana first because it's the capital and I love the architecture there very much, especially the AkOrda Palace and the Baiterek Tower. I want to see Almaty because it's close to the border with Kyrgyzstan. I'd like to see Aktau because of the view with the Caspian Sea and because there is a ferry in Aktau that will take you to Turkmenistan and Azerbaijan. Ushkonyr is not a town on a lot of people's radar, but I'd still love to visit it because it's the birthplace of President NursultanNazarbayev. I want to visit Karaganda, Shymkent, Pavlodar, and Atyrau. I'd like to see the Turkmen, Uzbek, and Chinese borders as well. There are so many countless places for me to visit in Kazakhstan.
- What are you doing to know better Kazakhstan, and what do you think about studying Kazakhstan?
- I do research online and I talk to people from Kazakhstan. I also talk to people who know a lot about it such as my friend Professor Timurbey, and my uncle. I like studying about Kazakhstan. It's an interesting place. When I ask people which country they'd like to visit, they say something like France, Germany, Britain, Italy, etc. I would honestly rather visit Kazakhstan and all the other Turkic countries because I think they offer a lot of things that those European countries don't.
- In one conversation you mentioned that you love all the Turkic countries.  Can you tell me more about it?
- I do love the Turkic countries very much; Turkey, Azerbaijan, Kazakhstan, Turkmenistan, Uzbekistan, and Kyrgyzstan. I love them because they have very interesting cultures and music. The people are very kind and hospitable.
- You said that you love Kazakhstan. How would you show respect to that country?
- I have talked to my friends and family about Kazakhstan sometimes. I use Facebook to put cover photos featuring Astana or other parts of Kazakhstan. I like to get out my Kazakh flag sometimes. I had my profile picture with the Kazakh flag on it too.
- Thank you very much for the interview. I wish and hope to see you in Kazakhstan.
- Thank you for inviting me. I can't wait to visit Kazakhstan. When I visit, I know I will not be disappointed. I hope to see you in my country more often.
Interview was conducted by SayagulAlimbekova,
during an internship at the Michigan State University