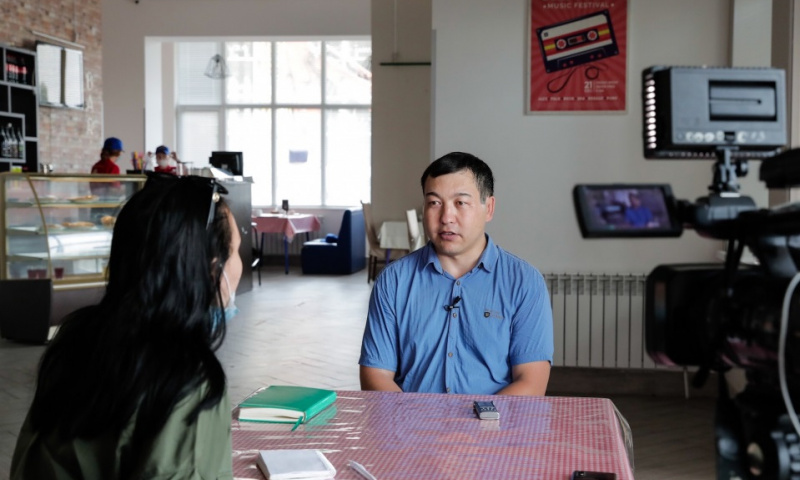 Social cafe "Emoji" has been working in the capital since July last year. The main features of the cafe is that here works deaf and dumb people. Visitors of the cafe orders their meal through gestures. The founder of the project, Azamat Bazylov, told us how this project was being implemented, shared with the secrets of social entrepreneurship and also talked about the condition of the cafe after quarantine.
Firstly, where did you get the idea to open a social cafe and how did you find employees?
I have been thinking about starting a business for some time. My brother has hearing problems and belongs to the third category of the disabled. He is already 40 years old, and he still has problems finding a job. It is very difficult for him to find a job. Looking at my brother, I realized that I would like to support people with hearing problems and help them adapt in the labor sphere.
Before this I have done a lot of research on how such people with disabilities work. Most of them work as seamstresses and shoemakers in Kazakhstan. Then I studied what does disabled people do abroad. Turns out that such people work in social cafes in other coutries. I also thought, why not to open a social cafe where people with disabilities would work. Therefore, we opened it last July.
As my brother is deaf and dumb, he has many friends like him. He contacted with them, and as a result 11 people gathered. However, no one had experience, as they never worked at cafet. So I suggested that they cook dishes which they make at home every day. We included homemade dishes on the menu. Visitors began to like the dishes we offer. Thus, our dishes are well received by customers.
Why did you name the cafe "Emoji"?
Nowadays, smileys are used on social networks, but most people do not know what it means. The emoji first appeared in Japan, which means "explaining without words". Deaf and dumb people uses gestures to explain what they wants to say. That's why I decided to name the cafe "Emoji". In the near future we are planing to make this cafe as a brand.
As I noticed that the majority of your employees are young people. Why did you choose them? They have less experience than adults ...
Yes, most of the staff in the cafe are young people. Before this I hired people who are 30 years old and more. However, they did not want to work, they are not eager to develop themselves and learn something new. Most people want others to do for them. And young people who have graduated from school and college have a positive attitude to life, their perceptions are completely different. Young people have a specific goals, for example, to help their parents, to buy an apartment, to learn a new world and to develop as a person.
Have you ever participated in state grants for medium and small businesses?
Yes, of course. I have applied for several government programs to receive a grant. However, it did not work out. It's not easy to get a grant for the development of social entrepreneurship. I invested in this business what I saved for the first installment of the apartment, but still need some money. It is impossible to get a loan without collateral. And I have no estate to get a big loan. So that is why I cannot get a loan from the bank. Therefore, it would be good if the state would provide loan for social entrepreneurship without collateral.
However, it should be noted that just a month ago I won the first grant from the First President's Fund a month ago, but I haven't received it yet. I am planing to use these funds for the development of this cafe.
Currently, National "Atameken" Chamber of Entrepreneurs has a number of programs that teach business skills. However, most of these courses are not for people with disabilities. I know from my brother that they have the same level of development after graduating from school and even from college as an 8th grader. They can't write correctly because they only learn to gesture at school. And it is not easy to quickly master such subjects as mathematics and Russian, so it is difficult to learn entrepreneurship. For example, I have two higher educations, but I have just started a business. Therefore, they need a practice. They have to work to get experience and it is easy for them to master. For example, a young man named Aktam started his career as a waiter, then learned to work as an bartender, and now works as a manager. Here thanks to his efforts, he gets a new position. This will have a positive effect on other employees, as his salaries have increased. Others see it and in this way, others strive to do better.
Moreover, it should be noted that we recently started shooting a TV series about the deaf and dumb people. First of all, it raises a social issue in society. We plan to finish the first series in the coming weeks. Then we release the trailer. There are many foreign films about the deaf and dumb people, but most of them are made in the drama genre. That is why we chose to shoot in comedy genre. In general, no one is insured against this, and the same problem occurs in the families of the rich. That's why the guy in the lead role will play the son of a rich man who studied abroad. In order to give him a lesson the father sends his son to work in the newly opened social cafe. The series is based on the interesting stories of this guy. The main role will play manager of "Emoji" cafe - Aktam. We hope that the audience will like it. So far, we are planing to shoot only 10 series fow now. My doctor friends and groupmates at the university help me financially to shoot this.
Our viewers can watch the series on the YouTube channel. We will also try it to show on TV channels. Last year people from Austria interested in cafe and also they filmed our cafe. Although social entrepreneurship is well established there, there are no social cafes. So they liked the idea of our project. Later, I posted on social media that we are going to shoot a series, they were also interested and asked to show the series on their TV channel in Austria.
As soon as the state of emergency was declared, the work of small and medium-sized businesses stopped. Were there any financial difficulties? What assistance did you receive from the state during the quarantine?
We have been working at this address since February this year. However, due to the state of emergency we closed on March 18. Most of the people working in the cafe are from all over Kazakhstan, they went home.
During the quarantine, half of the employees received 42,500 tenge appointed by the government, and the other half received 50,000 tenge provided by "Nur Otan" party. Like everyone else, I received social benefits during quarantine. It helped a little. During quarantine we agreed with the head of the facility that I will paid half of the price for renting. However, as cafe did not work, so it was difficult even to pay the partial payment.To date, we have rented a building in Alakol and sent 15 employees there. Having worked as a doctor in Urjar district for about 10 years, I know a lot of people. This summer I started this business to earn money. I think it will help to rebuild the cafe after the quarantine. So far, I can't say that we have benefited from this cafe. As a public fund, our common goal is not to make money, but to provide employment for people with disabilities, especially the deaf. It is not easy for them to find a job.
What are your plans for the future?
Our main goal in the future is to form the cafe as a brand. If there are people who want to open this kind of cafe in other cities, we plan to sell them a franchise. If it is opened in every city of the country, it would be a good opportunity for people with disabilities. Their social conditions will improve as well. Also, if they work together as a group, they can quickly get to know each other, understand each other and work together. There are more than 18 thousand people in Kazakhstan are deaf and dumb. It is not easy for them to get a job. For example, young people do not want to be shoemakers. It is more interesting that they work in such a cafe, interacting with people and exchanging experiences. Therefore, I dream that in the future such cafes will be opened in every city of Kazakhstan.
Photo from Strategy2050.kz