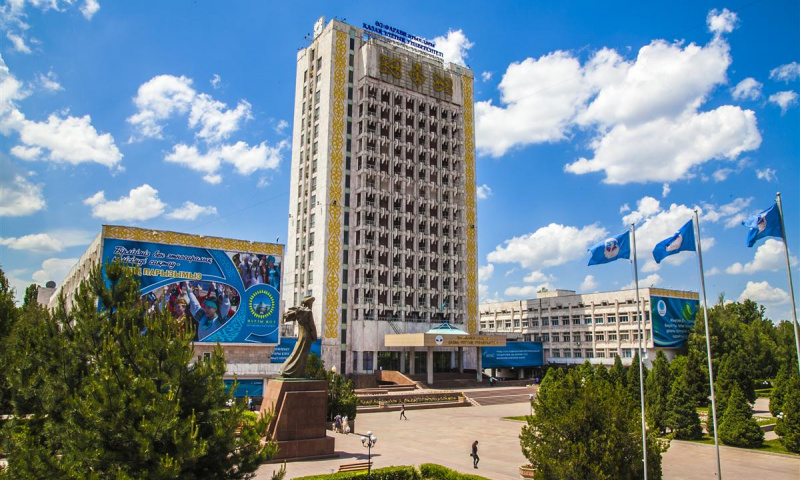 These days, the Week of International Journalism, dedicated to the International Children's Television and Radio Broadcasting Day, established by UNICEF in 1991, is being held at the leading national university - Al-Farabi Kazakh National University.
All over the world, on March 1, television channels reconfigure the broadcasting network for children's content, devote special programs to small viewers and young people. It is also customary to focus public attention on the rights of children and youth, on how the media help a young audience to increase education and competence, and learn to serve public values ​​and priorities. On the International Children's Day, television and radio broadcasting also congratulate young people who have linked their professional activities with the media.
Within the framework of the "international week", well-known journalists, broadcasters and photojournalists from foreign and domestic media will visit the student audiences of KazNU, master classes, the contest "The Best International Report", and the student exhibition "We See the World Like This" will be held.
The guests are hosted by the UNESCO Chair, International Journalism and Media in Society, generating international initiatives in the field of education and professional development of Kazakhstan journalism. The department has active contacts with many international organizations, training centers for journalists and media teachers, successfully implements a number of UNESCO and UN projects in the field of improving the quality of professional education, gender equality, information security.
As part of the implementation of the Message from President Kassym-ZhomartKemelevichTokayev to the people of Kazakhstan dated September 2, 2019 on the need to improve the level of scientific research and their practical application, the UNESCO Chair, international journalism and the media community, in collaboration with foreign scientists, conduct international research projects on topics media education, new media, media literacy, sustainable development goals, etc.
In 2019, for the first time, the specialty "International Journalism" was opened in the undergraduate degree, negotiations on a double diploma with a leading university in Turkey are ending.
On January 31, 2020 at the meeting of the National Commission of the Republic of Kazakhstan for UNESCO and ISESCO in Nur Sultan, the Minister of Culture and Sports, Chairman of the National Commission AktotyRaimkulova praised the activities of the UNESCO Chair at the Faculty of Journalism of Al-Farabi Kazakh National University. The Minister noted that "UNESCO's work in the field of communication and information focuses on the protection of journalists in areas of armed conflict, countering fake news, radicalizing the media, improving the quality of professional education and developing recommendations for ethical behavior in this area. Given the leading role of the Organization in developing international approaches to solving problems related to the development of the information society and ensuring information security in the humanitarian sphere, it is important to further increase our participation in such intergovernmental programs as "Information for All" and "Development of Communication".