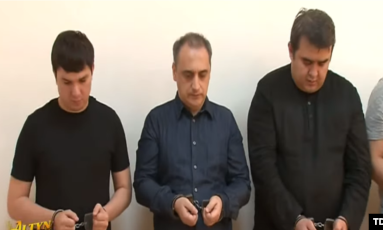 Former Minister of Trade of Turkmenistan was convicted of corruption.
Former Turkmen Minister of Trade and Foreign Economic Relations, Amandurdy Ishanov, was soon sentenced to corruption after dismising from the post.. How many years has he been convicted? On September 13, Turkmenistan posted a video of state-run television channels, among several men wearing a handcaff was Ishanov. They acknowledge that they have committed a corruption-related crime.
This video was presented at a government meeting by a number of large monitors when attorney Batyr Ataev introduced the results of anti-corruption measures initiated by President Gurbanguly Berdymukhammedov.
In the video, Ishanov acknowledges that along with a well-known businessman Charymukhamet Kulov and some heads of state-owned industrial enterprises, he has committed a variety of corruption crimes over the years.