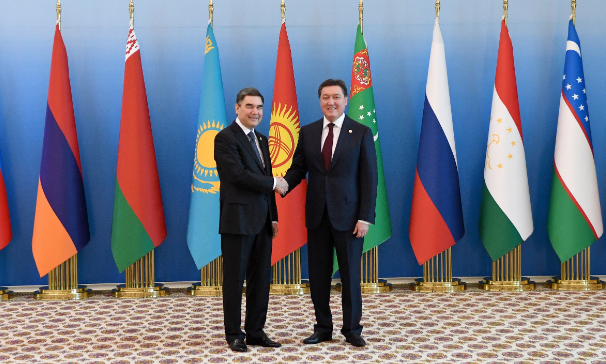 Photo: primeminister.kz
Prime Minister of Kazakhstan Askar Mamin met with the President of Turkmenistan Gurbanguly Berdymukhamedov, reports the press service of Kazakh Prime Minister.
During the meeting, prospects of Kazakh-Turkmen cooperation in all areas of trade and economic relations were discussed.
The Prime Minister of Kazakhstan noted that bilateral relations between Kazakhstan and Turkmenistan are developing steadily.
"We see a great importance in the deepening of trade and economic ties. Given the availability of transport infrastructure and a common border, there is a great potential for further strengthening mutually beneficial cooperation. A common goal has been set to achieve a significant increase in the volume of mutual trade. Kazakhstan is ready to make every effort to implement this task", - said Mamin.
In addition, the Prime Minister Askar Mamin took part in a meeting of the CIS Council of the Heads of Governments in narrow and extended formats in Ashgabat.
The Commonwealth is chaired by the Republic of Turkmenistan in 2019.