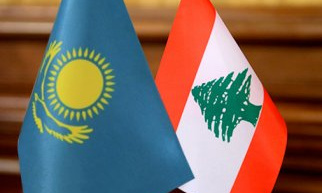 Photo: mod.gov.kz
The Defense Minister of Kazakhstan Nurlan Yermekbayev met with the Lebanon's Defense Minister Elias Bou Saab during his working visit to Lebanon, reports the press service of the Ministry.
During the meeting, two sides agreed on Tuesday to boost military cooperation. Actually, two countries agreed to increase cooperation by intensifying mutual visits of military experts while enhancing expertise exchange in the military field, National News Agency said.
Bou Saab praised Kazakhstan's participation in preserving peace in south Lebanon by being part of the United Nations Interim Forces in Lebanon (UNIFIL).
In addition, Kazakhstan became a member of the UNIFIL in October 2018 with the arrival of 120 Kazakhstan's peacekeepers to serve with the UN mission in furthering peace in south Lebanon.