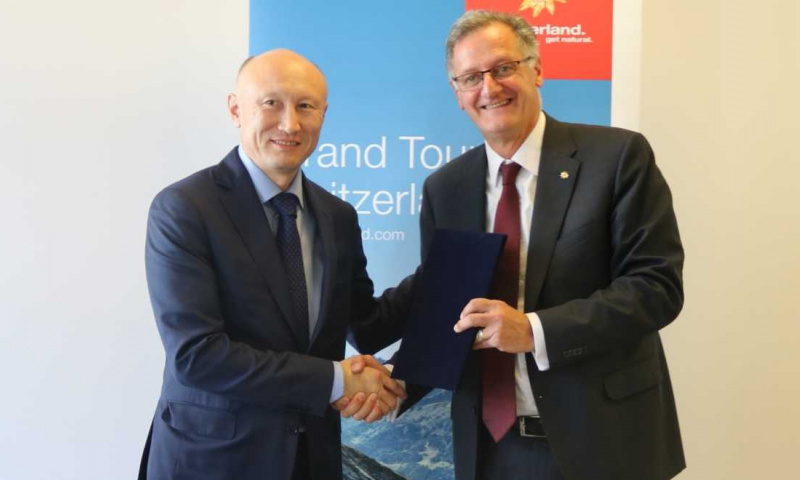 Photo: Mfa.kz
From October 29 to November 2, the delegation of the National Company "Kazakh Tourism", headed by Chairman of the Board Rashid Kuzembayev, is on a working visit to the Swiss Confederation, reports the official website of Kazakh Foreign Ministry.
On the first day of the visit, a "road show" was organized in Geneva with the participation of the Ambassador of Kazakhstan to Switzerland, Zhanar Aitzhanova, more than 30 representatives of tourist companies and potential investors. "NC" "Kazakh Tourism" made a presentation about Kazakhstan and a number of investment projects from the" Top-10 "Republican touristization card.
On October 30, a meeting was held with representatives of the World Economic Forum on the Tourism and Travel Competitiveness Index. It should be noted that this index will become one of the key indicators in the framework of Kazakhstan's state program for the development of domestic and inbound tourism until 2025.
Following the talks, the signing ceremony of the Memorandum of Cooperation between "NC "Kazakh Tourism" and "Swiss Tourism" was held, according to which the Swiss side will assist in developing year-round tourism in national parks and mountain areas of Kazakhstan, adapting and introducing standards for training mountain guides and ski instructors . The bilateral document also aims at mutual support in promoting tourism products, exchanging information and deepening international cooperation.
With the assistance of Swiss Tourism, the delegation of NC Kazak Tourism JSC will visit the 16th International Tourism Exhibition in Lugano, as well as will get acquainted with the management model of the Swiss National Park in Cernese.