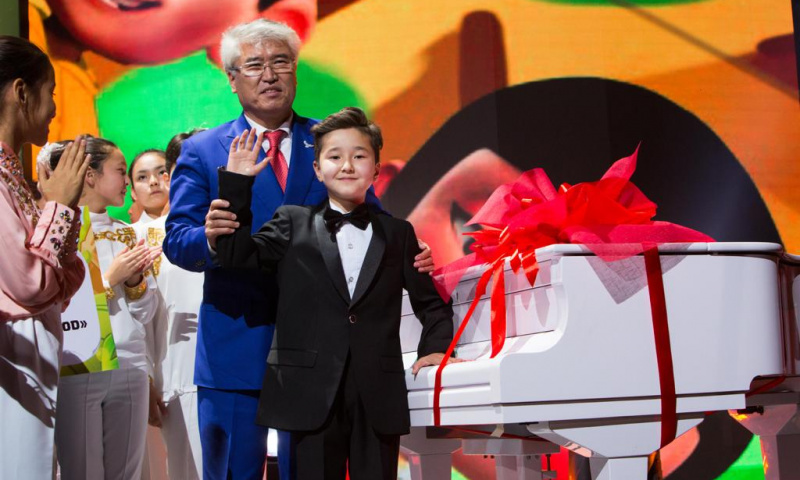 Жүсіп Аңсар бас жүлдені жеңіп алды. Фото: МЖСМ. Баспасөз қызметі.
Astana hosted on July 3 a gala concert the First International Festival of Talented Youth "Burabay Summer Fest" dedicated to the 20th anniversary of Astana. The event was organized by the Ministry of Culture and Sports of the Republic of Kazakhstan.
According to the Ministry, more than 400 performers from all over the country and abroad (China, Belarus, Russia, Kyrgyzstan, Uzbekistan, Azerbaijan and Turkey) took part in the competition from June 17.
The winners were identified during the final stage. Nomination "Artistic reading" got Tilek Nurkozha (Kyzylorda region), "Halyk dance" nomination - Zhumaliyev Ratmir (Almaty), "Traditional art (solo performance)" nomination - Alimkul Sultan (Zhambyl region), nomination "Traditional art (ensemble)" - "Zhetygen" ensemble (Turkistan region), "Traditional song" nomination - Ilyasova Aizhan, "Estrade song" nomination - Basitova Karina (Almaty city), "Academic song" nomination - Zhusip Ansar (Aktobe region). The main prize of the festival was handed over to Zhusip Anar by the Minister of Culture and Sports of the Republic of Kazakhstan Arystanbek Muhamediuly on behalf of the President of the Republic of Kazakhstan, Nursultan Nazarbayev, white piano and opportunity to visit the famous UNIVERSAL STUDIOS HOLLYWOOD studio in Los Angeles.
Translated by Nazerke Syundyukova