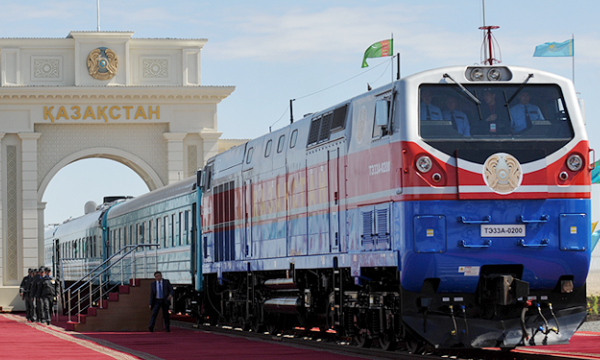 Photo: Kursiv.kz
On November 8, 2017, the first container train is launched from Kokshetau station has entered in Mersin city, Turkey via the new Baku-Tbilisi-Kars railway, reports the national railway company of Kazakhstan.
The train consisting thirty 20-foot containers belonging to Kazakhstan with grain crossed 5,435 kilometers in 10 days.  The container train passed through ferry port Kuryk - Alyat port in the Caspian Sea.
The director of container transportation department of railway company of Kazakhstan Almat Karimov said that 'Successful implementation of the project was made possible thanks to the well-coordinated work of all stakeholders: railway, port, maritime administrations, logistics companies - participants of the Trans-Caspian international transport route'.
He also commented that 'the launch of routes using multimodal solutions and own terminal infrastructure will allow Kazakhstan to increase the volumes of grain exportations both to Turkey and to other countries .The potential of new route is estimated at 10 million tons of cargo per year'.
On October 30, 2017, Baku-Tbilisi-Kars railway line launched connecting between Azerbaijan, Georgia, and Turkey.