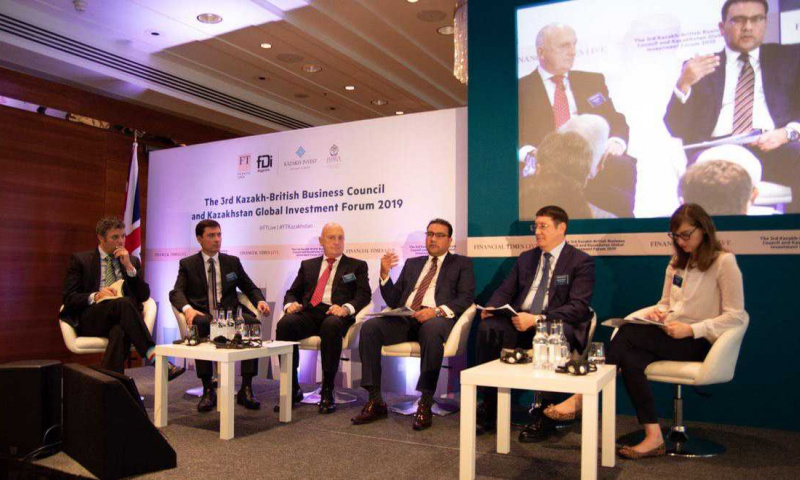 Photo: mfa.kz
Samruk-Kazyna and Da Vinci Capital to create a $100 million joint private equity fund, reports the press service of Kazakh MFA.
Kazakhstan's investment opportunities and the further development of Kazakh-British business relations were the key topics discussed during the visit of the Kazakh delegation representing the public and private sectors led by Deputy Minister of Foreign Affairs of Kazakhstan Roman Vassilenko.
Over 200 business executives from the manufacturing, agricultural, chemical, mining and financial sectors, as well as metallurgy, alternative energy, logistics and digital technologies spheres attended the forum.
"Kazakhstan is the largest economy in Central Asia, accounting for more than half of the region's GDP. We are also widely considered to have the best investment climate in the region, having attracted over $300 billion in foreign direct investment since independence", - said Vassilenko.
The role of Samruk-Kazyna, which manages Kazakhstan's largest state assets in various industries, was a special topic on the agenda.
"Taking into account the global economic trends, the [Samruk-Kazyna] Fund approved a new strategy aimed at diversifying income by investing in such promising sectors as petrochemical industry, renewables, high tech, Industry 4.0, as well as creating joint private equity funds with sovereign funds and major investment companies", - noted Yessimov.
He also noted that over the next five years, the Fund plans to invest more than $38 billion in the above areas, where $32 billion will be foreign investments of which British companies are expected to be a part of.
Following the Kazakh-British Business Council meeting, Samruk-Kazyna signed an agreement with Da Vinci Capital investment company on the creation of a $100 million joint private equity fund. Under the agreement, the fund is to invest at least $40 million in Kazakh enterprises in the IT and digitisation sectors to facilitate their development and subsequent IPO.