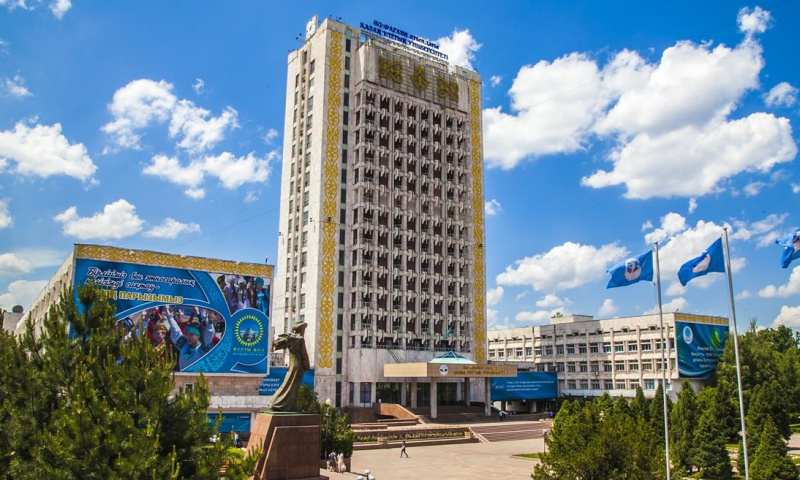 Kazakh National Universiity, Almaty; Photo: BNews.kz
Al-Farabi KazNU and the McGill University (Canada) signed a Memorandum of Cooperation in the field of medicine and the creation of a joint Neuro-Rehabilitation Center, the press service of KazNU reports.
The Center will be established on the basis of the clinical hospital No. 1 of the city, which has been transferred to the management of a leading University in Kazakhstan specializing in early rehabilitation after heart attacks and strokes, cerebral palsy and neurogenerative diseases.
As early at the beginning of the academic year, world-famous professors from Canada will come to KazNU to hold seminars and master classes for practicing healthcare professionals in Kazakhstan. It is planned that they will acquaint Kazakhstani colleagues with modern complex programs, medical and non-drug methods of treating and rehabilitating patients, and share best practices and the results of their clinical studies of diseases of the human nervous system.
Specialists from the McGill University will provide ongoing consulting assistance in the work of the Neurorehabilitation Center of KazNU, the transfer of new technologies for the treatment and rehabilitation of neurodegenerative diseases. The creation of the Center will also allow for joint research and scientific and educational work, practical training of students of the Medical Faculty of KazNU. In the future, the Center strives to become one of the drivers of medical tourism and the hub of Central Asia for the treatment and rehabilitation of neurodegenerative diseases.