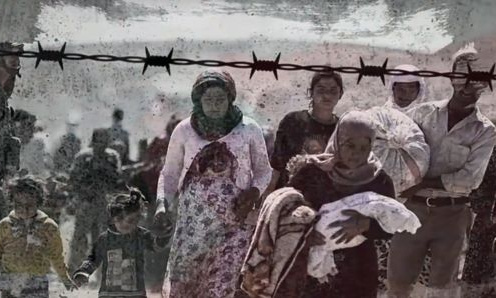 Қырғыз билігі Орта-Шығыстағы азаматтарын елге қайтаруға күш салуда. Фото: BBC
Kyrgyzstan strives to return its citizens from the Middle East, reports the Ministry of Foreign Affairs of Kyrgyzstan.
A special working group set up by the government has been working with returning the citizens of Kyrgyzstan from Syria and Iraq.
Besides, more than ten people appealed to Kyrgyz President to return their captured relatives to the country. A special working group, along with the Iraqi government, has begun the process of identifying citizens of Kyrgyzstan. According to the Kyrgyz Ministry of Foreign Affairs, such kind of work is going on in Syria as well.
What is more, since the beginning of the armed conflict in the Middle East, more than 700 Kyrgyzstani people have been involved in jihadist attacks. Some of those who involved in the extremist group took their children. Therefore, there are more than a hundred Kyrgyzstani women and children in Iraq. There is no evidence that they have returned to their country earlier. According to some sources, more than 100 Kyrgyz died during the battle.
Earlier, Kyrgyzstan's Ministry of Internal Affairs has said there is no restriction on the return of Kyrgyz citizens to Kyrgyzstan. However, they said that illegal migrants would be punished.
In addition, before this, French journalists from the camps in Syria and Iraq met a woman with a Kyrgyz passport at one of the camps. They had a short conversation with her. That video discussed a lot  on the Kyrgyz social network. They all criticized the government's failure to bring back their citizens to Kyrgyzstan.