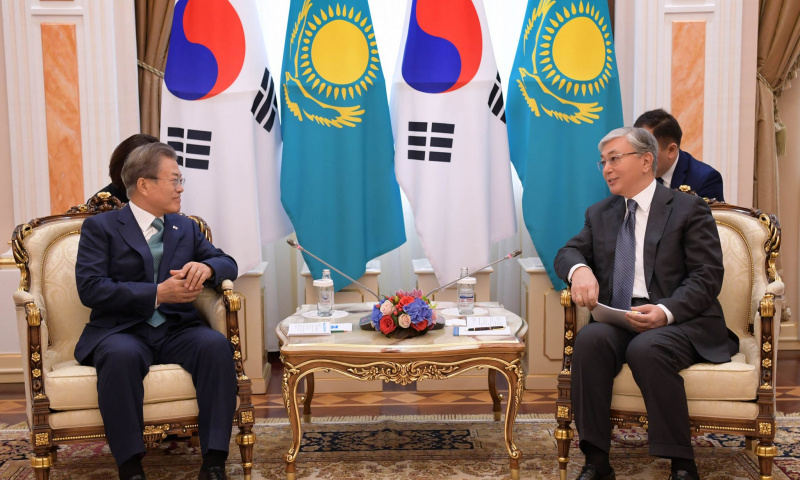 Photo: Akorda.kz
The President of Kazakhstan met with South Korean President Moon Jae-in in Akorda, Nur-Sultan.
During the meeting, the President Kassym-Jomart Tokayev promised to promote the development of the renewed cooperation program "Fresh Wind".
"It is gratifying to note the gradual growth in bilateral trade, following last year's figures reached a record 4 billion dollars. This is more than twice the volume of 2017. Only direct investment from Korea to Kazakhstan amounted to about 7 billion dollars. One of the largest projects in this stage is the construction of the BAKAD with the participation of Korean companies", - said the President.
In his turn, South Korean President said: "This program ("Fresh Wind") will give new energy to bilateral economic cooperation". He also thanked the Kazakh side for supporting the peace process on the Korean Peninsula.
In addition, during the visit of the South Korean leader, it is planned to sign a number of bilateral agreements and memorandums, including the agreement on the transfer of convicted persons and the renewed cooperation program "Fresh Wind", which covers the areas of: new technologies, infrastructure, industry and agriculture.
Earlier, it was reported that South Korean President Moon Jae-in arrived in Kazakhstan yeatserday, on April 21. The President of Korea Republic was met by the Deputy Prime Minister of Kazakhstan Zhenis Kassymbek, Foreign Affairs Minister of Kazakhstan Beibit Atamkulov and Mayor of Nur-Sultan Bakhyt Sultanov at the airport.