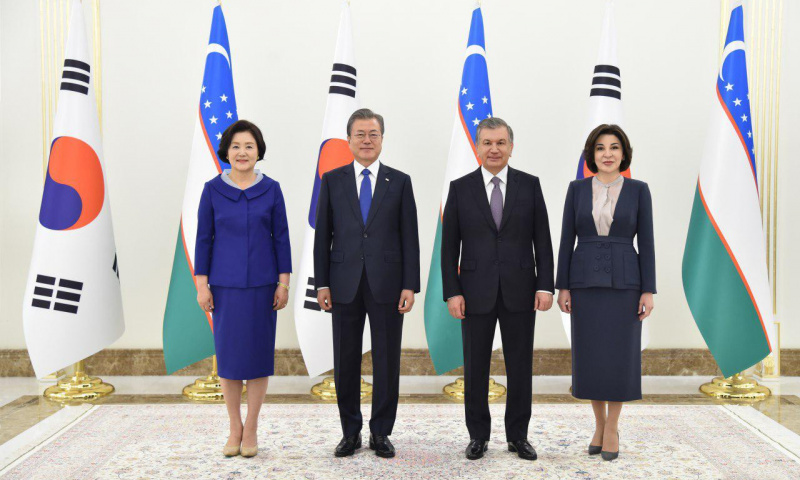 Photo: Gov.uz
President of Uzbekistan Shavkat Mirziyoyev met with South Korean President Moon Jae-in, reports the press service of Uzbek MFA.
The official welcoming ceremony for the President of the Republic of Korea took place at Kuksaroy residence on April 19. Guard of honor lined up to welcome the distinguished guest. Shavkat Mirziyoyev and Moon Jae-in rose to the podium to pay tribute to the national anthems of the two countries.
The ceremony was attended by members of the official delegations of Uzbekistan and South Korea, representatives of the diplomatic corps accredited in Uzbekistan.
Recall, yesterday, on April 18, at the invitation of President of the Republic of Uzbekistan Shavkat Mirziyoyev, President of the Republic of Korea Moon Jae-In arrived in Uzbekistan on a state visit. The Prime Minister of Uzbekistan Abdulla Aripov met the high guest at the Islam Karimov Tashkent International Airport.
Moreover, earlier, it was reported that  the President of South Korea Moon Jae-in will have an official visit to Central Asian countries, especially to Kazakhstan, Uzbekistan and Turkmenistan on April 16-23.
In addition, it is expected that South Korean President Moon will be in Kazakhstan from April 21-23 and will meet with new Kazakh President Kassym-Jomart Tokayev, who took office last month. During the meeting, it is planned that two leaders will discuss trust building between their two governments and measures to boost bilateral cooperation.