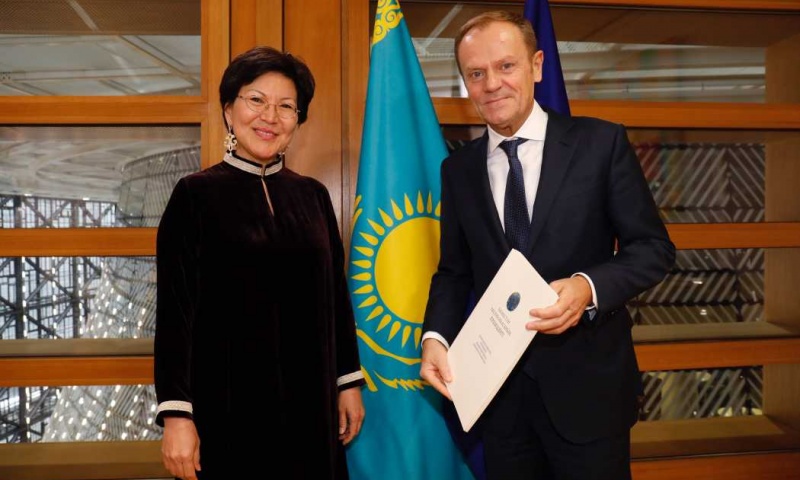 Mfa.kz
Kazakh Ambassador in Belgium Aigul Kuspan presented her letters of credentials to Donald Tusk, President of the European Council, accrediting her as Ambassador of the Republic of Kazakhstan to the European Union and to the European Atomic Energy Community, reports the press service of Kazakh Foreign Ministry.
Presentation of letters was followed by exchange of views with regard to bilateral relations and further cooperation between the Republic of Kazakhstan and the European Union.
President Tusk noted that he is "a good friend of Kazakhstan and President Nursultan Nazarbayev." He said: "We appreciate the role of the President of Kazakhstan in international affairs, including the efforts in the Astana process".
The sides discussed the initiative of the President of Kazakhstan, launched at the 12th Europe-Asia Meeting (ASEM) Summit in Brussels, to organize a special UN session or meeting with leaders of the United States, Russia, China and the European Union in Astana to discuss international security issues.
The President of the European Council said: "The EU is Kazakhstan's largest trade partner. Kazakhstan plays a strategic role in the region, not only because of its geographic position, but also as a result of the energy of your President. Therefore, we should develop our cooperation."
Ambassador Kuspan noted that Kazakhstan has high hopes for the Enhanced Partnership and Cooperation Agreement (EPCA) with the European Union, which allows to significantly increase the volume of trade and investment, primarily through high-tech industries, to generate new opportunities for economic growth and job creation.