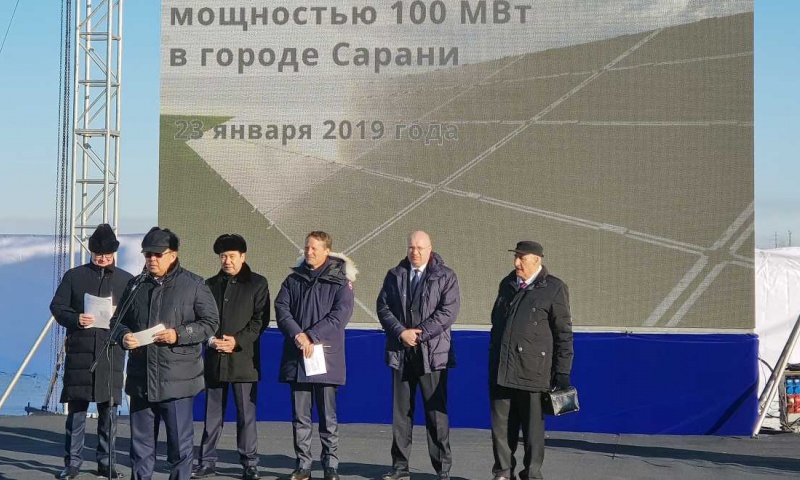 Photo: Mfa.kz
The opening ceremony of the largest in Central Asia solar power plant SES Saran, with a capacity of 100 MW, was held in the industrial center of the Karaganda region - Saran town, reports the press service of Kazakh Foreign Ministry.
Before the opening ceremony, the parties signed a Memorandum on the development of the SES Saran project, which enables investment of up to 500 million dollars.
The launch of this solar power plant is a prime example of the practical implementation of the tasks set by the Head of State on economization of the country's foreign policy, attraction of best practices, knowledge, technology and investment in Kazakhstan.
Implemented in a short time, the project was the result of coordinated work of central and local authorities with a group of foreign companies from Germany, the Czech and Slovak Republics, as well as the EBRD.
During the construction of the solar power plant, particular attention was paid to local context, including the involvement of local workers, products and construction materials from Saran companies. In addition, jobs have been created for local residents at the new solar power plant.
The launch of the solar power plant was another practical contribution to the implementation of the task of President Nursultan Nazarbayev to increase the share of renewable energy in the country, the transition to green technologies.
This was noted in the statements by Energy Minister Kanat Bozumbayev, German Ambassador to Kazakhstan Tilo Klinner, Akim of Karaganda region Erlan Koshanov, Head of the International Center for Green Technology and Investment Projects Rapil Zhoshybayev.
Recall, the project "Construction of a 100 MW solar power plant in Saran" was initially presented in the Kazakhstan pavilion at the International Specialized Exhibition Astana EXPO-2017.