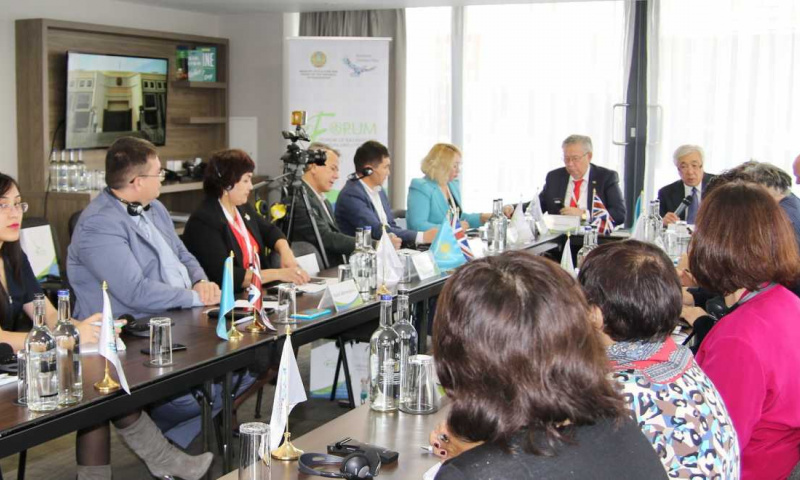 Photo: Mfa.kz
Works of contemporary Kazakhstani poets, writers and artists were presented to British audiences at a Forum on Kazakhstan's Culture and Literature, reports the official website of Kazakh Foreign Ministry.
The event, titled "Modern Kazakh Culture in the Global World" was part of the Ruhani Zhangyru (Modernisation of Kazakhstan's Identity) programme. It was organised by Kazakhstan's Ministry of Culture and Sport, as well as the country's Writers' Union and the National Academic Library, with the support of the Embassy of Kazakhstan in the UK.
Attendees included the Ambassador of Kazakhstan to the United Kingdom, Erlan Idrissov, Professor of the University of Cambridge and Vice-President of the British Institute of Persian Studies Charles Melville, Professor of the University of Cambridge Dr. Firuza Melville, British journalist and writer Nick Fielding, Editor of the Open Central Asia Magazine Mark Ahmed, British researcher Gill Brown, Head of Kazakhstan's National Academic Library Umutkan Munalbayeva, renowned Kazakh writers Bexultan Nurzhekeyev, Garifolla Yessim, and poet Bakytzhan Tobayakov.
Speaking at the forum's opening, Ambassador Idrissov thanked the event's organisers for their efforts aimed at popularising modern Kazakh culture abroad and briefed those present with the Embassy's plans on promoting Kazakhstan's cultural heritage in the UK.
Forum participants discussed the development of Kazakh literature, modern Kazakhstan's intellectual resources, issues of globalisation and preservation of national identity through the prism of Kazakh cinematography, as well as the history and prospects of further cultural cooperation between Kazakhstan and the UK.
Nick Fielding presented a unique research report on British authors who have written about Kazakh lands and Kazakh people since the 18th century. He stated that over 20 British authors have studied the culture and life of Kazakhs, as well as the unique nature of Kazakhstan, and their works have been preserved to this day. This, according to Mr. Fielding, is clear evidence that there is much more in common between the UK and Kazakhstan than might seem at first.
The forum also presented books by Mr. Nurzhekeyev titled "Life Spent in Expectation" and "Genghis Khan – the Son of the Ile Region", as well as a book by poet Mr. Tobayakov "Sounds of Kobyz". A well-known Kazakh film director, Rustem Abdrashev, presented his television series titled "The Diamond Sword" about the history of the formation of the Kazakh Khanate. The guests of the forum also had the chance to become acquainted with the works of the famous Kazakh painter and sculptor Ruslan Akanayev from his "Seasons" series, as well as a photo exhibition about Kazakh culture and art.