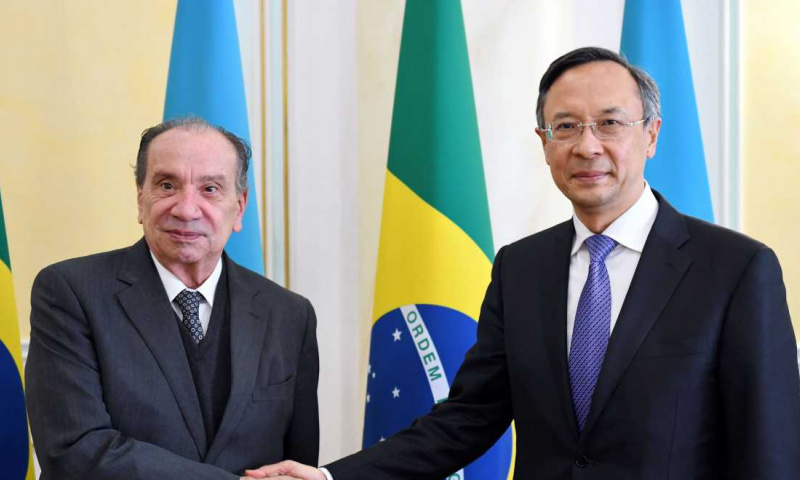 Photo: Mfa.kz
The Minister of Foreign Affairs of the Republic of Kazakhstan Kairat Abdrakhmanov met with the Minister of Foreign Affairs of the Federative Republic of Brazil Aloysio Nunes during the first official visit of the Brazilian Foreign Ministry to Astana since the establishment of bilateral relations, reports the official website of Kazakh Foreign Ministry.
The visit to Kazakhstan is dedicated to the 25th anniversary of diplomatic relations between Kazakhstan and Brazil, and marks a new stage in the countries' strengthening friendship and cooperation. Over recent years, the partnership between Kazakhstan and Brazil has significantly strengthened due to high-level visits in 2007 and 2009. In September 2016, Kazakh President Nursultan Nazarbayev and Brazilian President Michel Temer met in China on the sidelines of G20 Summit.
Brazil is one of Kazakhstan's leading trade partners in Latin America. The importance of activating business contacts, and holding business forums and meetings in B2B formats between representatives of Kazakh and Brazilian business communities was emphasised, in order to ensure further development of bilateral economic relations. Last year, the bilateral commodity turnover hit $135 million, and this figure is expected to continue increasing.
Mr. Abdrakhmanov spoke about the favourable conditions for foreign businesses in Kazakhstan, and called for the implementation of investment projects in agriculture, aerospace and military-industrial complex, energy, ore-mining, green technologies, tourism and education, as outlined in President Nazarbayev's recent Address to the Nation.
The Brazilian delegation congratulated Kazakhstan on the successful organisation of the EXPO-2017 event in Astana, and expressed interest in cooperation with the Astana International Financial Centre, the International Centre for Green Technologies, and investment projects and IT-startups launched on the ground of the international specialised exhibition.
Kazakhstan expressed interest in deepening dialogue in a multilateral format with Brazil, which is an important member of such regional and global structures as BRICS, G20 and MERCOSUR. It was noted that development of cooperation between the EAEU and MERCOSUR could positively affect the economic interaction between Brazil and Kazakhstan.
The sides agreed to continue constructive interaction on pivotal issues of global security within the UN, with a focus on non-proliferation of nuclear weapons and international terrorism countering.
In the near future, the Foreign Ministries of Kazakhstan and Brazil will adopt a roadmap of bilateral cooperation in all priority areas of mutual interest.
The Brazilian Foreign Minister will also meet with the Deputy Prime Minister, and Minister of Agriculture, Umirzak Shukeyev.