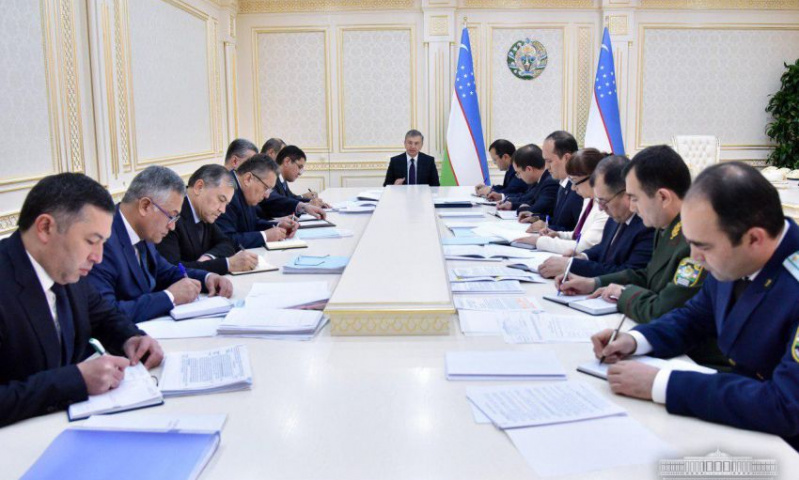 Photo: Gov.uz
On October 30, the President of the Republic of Uzbekistan Shavkat Mirziyoyev held a meeting to discuss the expected results of the State budget execution in the current year, the main macroeconomic indicators and directions of fiscal policy for 2019, reports Uzbek government's website.
At the meeting, it was noted that following the results of the current year, the State budget revenues are expected to amount to 74.5 trillion UZS, expenses – 78.5 trillion UZS, local budgets will have 5.5 trillion UZS or 6 times more funds than the last year.
Budget expenditures this year rose by 60 percent or 29 trillion UZS compared to 2017. Of this amount, 5.6 trillion UZS were allocated to financing "Obod qishloq" ("Prosperous village"), "Obod makhalla" ("Prosperous neighborhood"), "Yoshlar – kelajagimiz" ("Youth are our future") programs and construction of affordable housing. To provide young entrepreneurs with preferential loans and provide employment for the population, 700 billion UZS were allocated to Microcredit Bank and more than 1 trillion UZS to the People's Bank, 4.5 trillion UZS were allocated to increasing the country's defense capability.
The most important thing, along with an increase in the wages of public sector employees, pensions and benefits above the inflation rate, wages of educators, teachers, science and culture workers increased from 30 to 100 percent.
Liberalization of monetary and price policies, streamlining mutual settlements in agriculture and the growth of capital investments had a positive effect on increasing budget revenues.