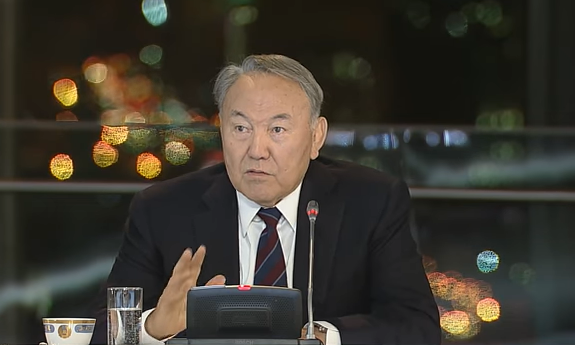 President of Kazakhstan Nursultan Nazarbayev forbade to put monuments to him, he said this during the meeting with representatives of Kazakhstani media, reports the press service of President.
'Recently someone wrote to me. I do not know from where that Nazarbayev does not need stone monuments, since he built the capital city. I fully agree with him, this is all fuss', said the President. As an example, he quoted the statement of the great Roman emperor Marcus Aurelius, who said that he did not want people to ask 'whose is this monument'. He wanted people after him to ask 'why he does not have a monument'.
He also stressed that he had always opposed such proposals. The only thing he agreed on was the use of his name in the name of Nazarbayev University. This was done to ensure that everyone supported the new education facility. And other similar initiatives relate to the decision of local authorities, he said.
'I can forbid it by my decree. Now I am saying publicly to all people of Kazakhstan: do not do this, do not. That is not the point. We should stay in history with your own affairs. Not a long life, not some monuments, - own affairs. I try to do it. What happens to monuments through the passage of time, we all know well from history. Well called, at least Furmanov street, not someone. But this is Almaty, my hometown, maybe I should agree with this, but I appeal to everyone. Of course, thank you for thinking so highly of me, thank you for everything, but you do not have to do this', added Nursultan Nazarbayev.
Recall, on November 30, the Maslikhat of Almaty adopted a decision one of main streets of Almaty, Furmanov street renamed into Nursultan Nazarbayev Avenue.
Also, the name of President named the university and the international airport in Astana.  Also, monuments in Taldykorgan, Almaty, Kyrgyzstan and Turkey were opened in honour of the Kazakh President.