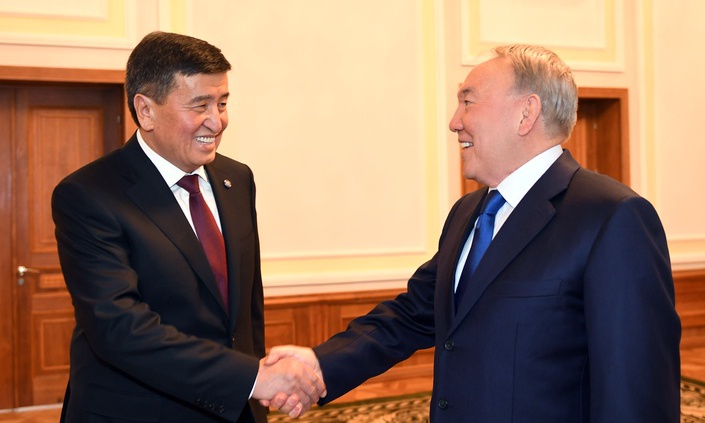 Photo: Akorda
On November 30, the President of Kyrgyzstan Sooronbay Jeenbekov and the President of Kazakhstan Nursultan Nazarbayev met during  the jubilee session of the Council of Foreign Ministers of the Collective Security Treaty Organization(CSTO) held in Minsk.
Nursultan Nazarbayev congratulated Sooronbay Jeenbekov on his victory in the presidential election. He also noted that relations between the two neighbouring countries would be strengthened. The leaders discussed issues of further development of bilateral ties, including the situation on the Kyrgyz-Kazakh border.
President of Kazakhstan Nursultan Nazarbayev said  'Everyone knows the reasons of the situation on the border of two countries. That is why, there is a 'road map' drawn up by the governments of two countries. We examined it, the working groups of the two countries will discuss and sign this 'road map'.
«We discussed all the current difficulties and came to a common decision. The authority of the two countries should use the 'road map'  for resolving many interaction issues during December. Then many problems will be solved. The border between two countries will open before the signing of the 'road map'. The issues of bilateral cooperation will resolve within the agreed time, "Sooronbai Jeenbekov noted.
The President of Kazakhstan Nursultan Nazarbayev invited the President of Kyrgyzstan to pay an official visit to Kazakhstan.