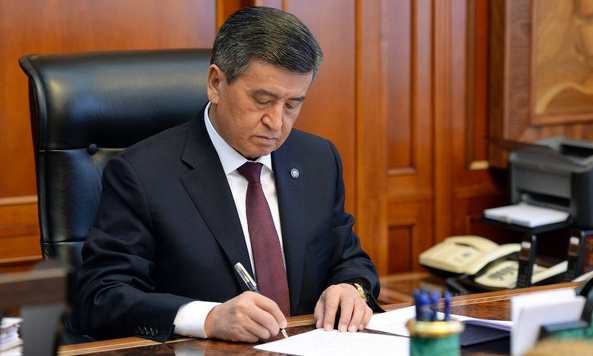 Қырғызстан президенті Сооронбай Жээнбеков. Фото: АКИpress.
The Kyrgyz government resigned. This was reported by the AKIpress news agency.
On April 19, President of Kyrgyzstan Sooronbai Jeenbekov signed a decree on resignation of the government under the request of Supreme Council. According to the press service of the Kyrgyz president's administration, Jeenbekov resigned the government pursuant to article 85 paragraph 6 and article 5 paragraph 1 of the country's Constitution. The document came into force after the president signed it.
According to preliminary estimates, instead of Prime Minister Sapar Isakov, head of the presidential administration Mukhammedkaly Abylgaliev may come. It is unknown yet where will be appointed the current prime minister Sapar Isakov, who was resigned with the cabinet. Sapar Isakov became prime minister of Kyrgyzstan on August 26, 2017 by the decree of the ex-President Almazbek Atambayev. He was 29th prime ministers in the history of independent Kyrgyzstan.
Translated by Nazerke Syundyukova