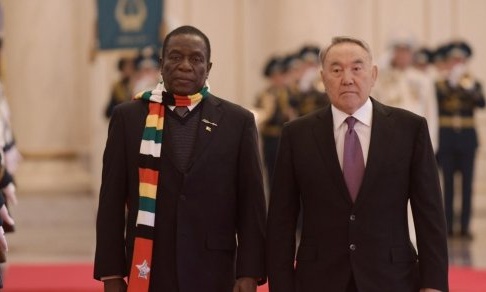 N.Nazarbayev meets with President of the Republic of Zimbabwe Emmerson Mnangagva, reports Akorda's press service.
After the welcoming ceremony for the President of the Republic of Zimbabwe, Emmerson Mnangagwa, who arrived in Kazakhstan on an official visit, negotiations were held in an expanded format.
The head of state noted the importance of deepening relations between the two countries and separately highlighted the main aspects of further cooperation.
"In our foreign policy, including in the African direction, we seek to develop broad trade relations and mutual support of international initiatives," said the President of Kazakhstan.
In turn, the President of the Republic of Zimbabwe thanked Nursultan Nazarbayev for the opportunity to visit Kazakhstan and particularly noted the warm welcome extended to his delegation.
During the meeting, the sides discussed the establishment of bilateral cooperation in agriculture, mining, also the modernization of the transport and logistics network of Zimbabwe and the implementation of joint projects in the field of processing.