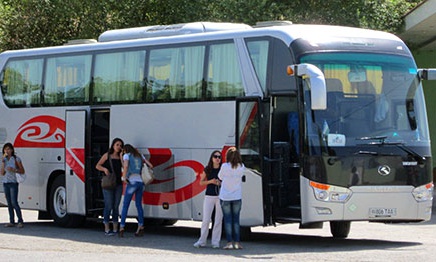 Photo: Simurg Travel
 50 sightseeing buses and exclusive tours for tourists was manufactured in Uzbekistan, reports the press service of the State Committee for Tourism of Uzbekistan.
The buses SAZ HD 50 produced in the Samarkand automobile factory, also they provide comfortable conditions for travelers and take into account all safety requirements. The salon of the bus have with air conditioning, TV, Wi-Fi, microphone, audio system and speakers, each seat is equipped with seat belts. Also, there is a video camera that serves as security.
On December 2017, JV MAN Auto-Uzbekistan transferred 50 modern low-floor buses MAN A22 CNG, working on compressed natural gas. In addition, in the first quarter of 2018, the company plans to produce intercity buses jointly with MAN. They will create favourable conditions for the further development of the tourism industry.
Recall, over the last six months 1.1 million tourists visited Uzbekistan. Compared with the same period in 2016, the trend increased by 18%. At the same time, export of tourist services reached 694.5 million dollars.