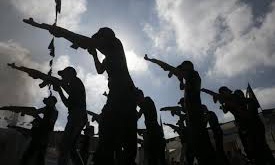 Photo: SBS
A criminal group which suspects in the planning of actions ' for breaching public order' were detained in Almaty, the official representative of the Department of Internal Affairs of Almaty, Saltanat Azirbek reports. She said that the investigation starts under the article 'Propaganda of terrorism or public calls for the commission of a terrorist act'.
The suspects were 47-year-old O.Omyrov, 43-year-old K.Abishev and 51-year-old A.Zhumagulov who are the leader of the supposed group. According to the investigation, the suspects planned to breach public order, intimidate of the population and sabotage of the work of law enforcement agencies. They did lots of agitation materials and literature, and video which invites to 'call for  jihad' to do their plan.
According to one version, which is being verified, this group of individuals acted on the instructions of criminal elements hiding from Kazakhstan's justice abroad' Azirbek said.
The investigation is continuing into the circumstances of breaching public order.