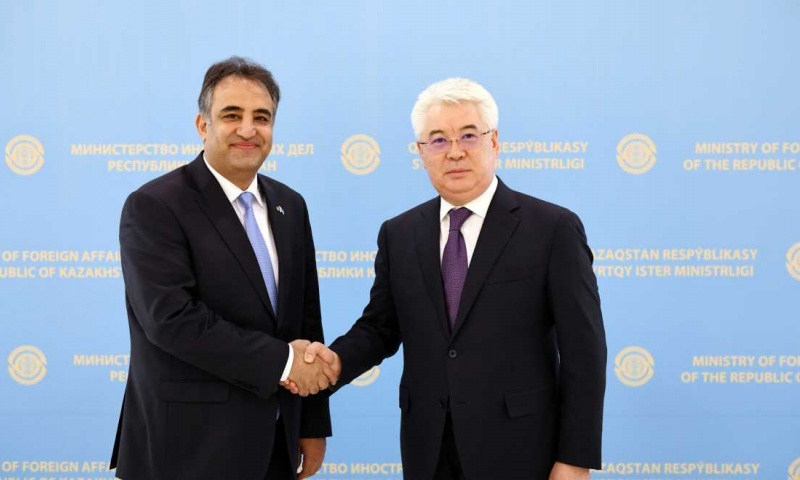 Photo: Mfa.kz
The Foreign Minister of Kazakhstan Beibit Atamkulov met with the Ambassador of the Islamic Republic of Afghanistan to the Republic of Kazakhstan, Mohammad Farhad Azimi, reports the press service of Kazakh MFA.
During the meeting, two parties discussed the current state and future prospects of Kazakhstani-Afghan cooperation in the political, trade, economic and humanitarian spheres.
"Cooperation with Afghanistan in the framework of integration processes in the Central Asian region, the development of cooperation across the entire spectrum of relations both in bilateral and multilateral formats will have a positive impact on our cooperation. Kazakhstan has been contributing to the peace process and reconstruction in Afghanistan for many years", - noted Atamkulov.
The progressive dynamics of mutually beneficial cooperation between Kazakhstan and Afghanistan was noted, as well as the growth of indicators in mutual trade. At the same time, it was emphasized that the potential of trade and economic cooperation has prospects.
Kazakhstan is interested in increasing exports of grain and its products to Afghanistan, in strengthening cooperation and interaction in transit-transport and humanitarian spheres, in implementing railway and infrastructure projects in Afghanistan, and also in continuing the educational program of Kazakhstan for Afghan citizens. Military-technical cooperation is one of the possible aspects of bilateral cooperation.