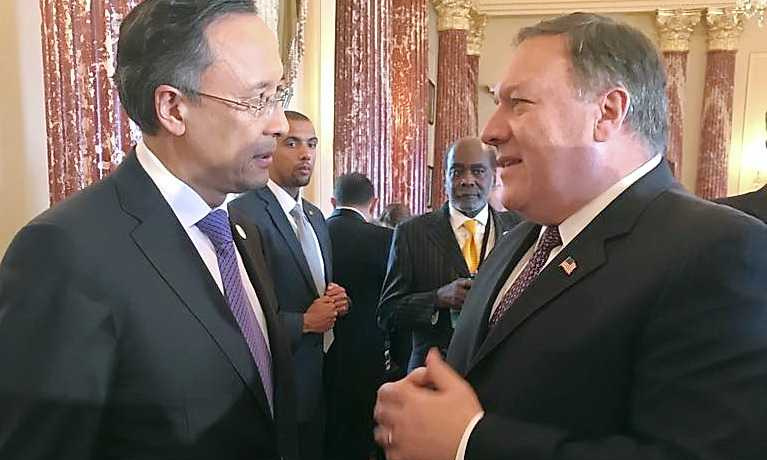 Photo: MFA
On July 26, 2018, the Minister of Foreign Affairs of the Republic of Kazakhstan, Kairat Abdrakhmanov, participated in the first Ministerial Conference to Advance Religious Freedom, initiated by the US Secretary of State Michael Pompeo, reports MFA of Kazakhstan.
The event was attended by foreign ministers from more than 80 countries, as well as by over 170 civil society representatives and 100 religious leaders from around the globe.
In his opening speech, US Vice President Mike Pence stated that ensuring religious freedom is one of the core priorities of the Trump Administration, as well as an essential focus area of the US state policy. In this regard, the United States intends to continue rendering assistance and support to the international community forprotecting the rights of religious associations, minorities and faiths all over the world.
Secretary of State Pompeo said that in order to implement these goals, the US plans to launch a number of initiatives aimed at defending the rights and freedoms of religious groups.The Conference supported the US proposal to adopt the Potomac Declaration and the Potomac Plan of Action relatedto religious freedom.
In his statement, Mr. Abdrakhmanov confirmed Kazakhstan's unwavering commitment to the principles of freedom of religion and the willingness of our country to support international efforts in this area. The foreign minister paid special attention to the fact that these initiatives werein tune with the idea of President of Kazakhstan NursultanNazarbayev on Islamic rapprochement, proposed during the Summit of the Organisation of Islamic Cooperation in 2016, as well as rapprochement of cultures, supported by the UN General Assembly in 2012.
The Kazakh side believes that the promotion of religious freedom also contributes to international stability and security. Central Asia, which seeks to serve as a regional model of peace, security, stability and sustainable development, is a good example of this.
The minister briefed the Conference participants about the forthcoming sixthCongress of Leaders of World and Traditional Religions to be held in Kazakhstan this October. Itserves as a unique platforminitiated by the President of Kazakhstan topromote dialogue between religions, cultures and civilizations.
Minister Abdrakhmanov also exchanged views with Secretary Pompeo, Senior Advisor to the US President Jared Kushner and held talks with the Assistant Secretary of State for South and Central Asian Affairs Alice Wells, with whom he discussed the state and prospects for the development of Kazakh-American relations.
The foreign minister also visited the Atlantic Council, one of the leading think tanks, where he held a briefing on the main priorities of Kazakhstan's development and shared views on the topical issues on the international agenda.