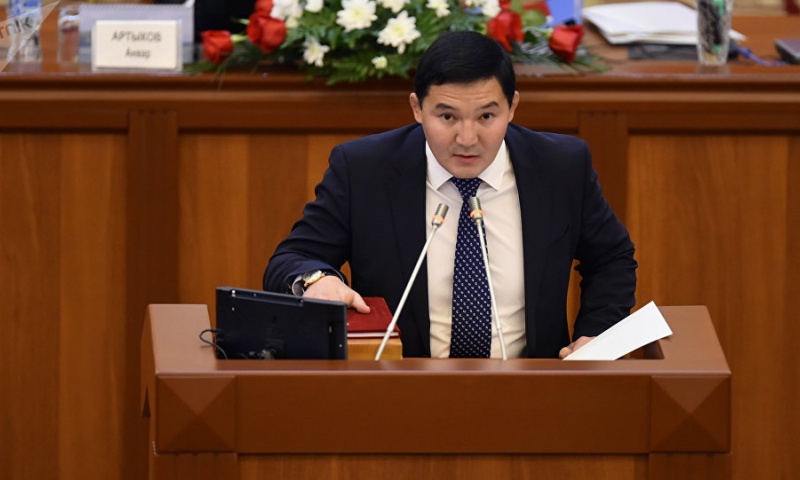 member of the Supreme Soviet, Damirbek Asylbekuly. Photo: Sputnik Кыргызстан
On February 16, the media reported on the detention of three citizens of Republic of Kyrgyzstan in a special operation in the territory of Kazakhstan. Who are Kyrgyzstan citizens detained by competent authorities of Kazakhstan? For what purpose did they come to Kazakhstan? What is the relation of the Kyrgyz deputy to the customs post "Korgas"?
During the special opretion held in the Almaty, Zhambyl and South Kazakhstan regions in the period from February 15 to February 16, 29 people were detained. 16 of them were detained in Almaty and Zhambyl regions, and the remaining 13 were arrested in South Kazakhstan region. Among the detainees were citizens of the Kyrgyz Republic, fellow worker of customs, high-ranking politicians, members of an organized criminal group.
One of the three Kyrgyz citizens detained on the territory of Kazakhstan was a member of the Supreme Soviet, Damirbek Asylbekuly, born on February 3, 1981. In 2000-2004 he was Director of "APMS" Company, in 2006-2008 was head of the department of "Sky Mobile" Company, "., in 2008-2009, was General Director of "BiMoCom", Deputy of the V convocation of the Supreme Soviet of Kyrgyzstan in 2009-2010, Coordinator of the Department of Interaction with Government Agencies and Interests Protection of "Alfa Telecom" Company in 2010-2015. The second Kyrgys citizen arrested by the competent authorities of Kazakhstan was Muradilov Ulanbek Turatbekuly, born November 15, 1979, in Naryn region. He is an activist member of one of the criminal groups in the country. He headed "Alfa Telecom's" branch in the Osh city and Osh regions. As stated by the media representatives of Kyrgyzstan, Muradilov and Asylbekuly on February 15 went from Bishkek airport to Almaty. A third Kyrgyz citizen, who was detained on the territory of Kazakhstan, was born on November 9, 1985, in Naryn, Abakirov Shyngys Abakiruly. It passed to the territory of Kazakhstan from "Ak Zhol" Control Station on February 16 at 6:42. The "Certificate and Cо" company in Bishkek in is registered by Mr. Abakiruly.
According to the representatives of the mass media of Kyrgyzstan, Muradilov, Asylbekuly and Abakirov are related with the conduct of smuggled goods from the customs post "Korgas". They made documents "for Kyrgyzstan" for goods crossing the customs border of China "Korgas" with Kazakhstani partners. However, in fact, these goods remained on the territory of Kazakhstan, not reaching Kyrgyzstan. According to preliminary forecasts, they made documents for goods crossing the customs post "Korgas" through the Chingiz Abakirov' company "Certificate and Co".