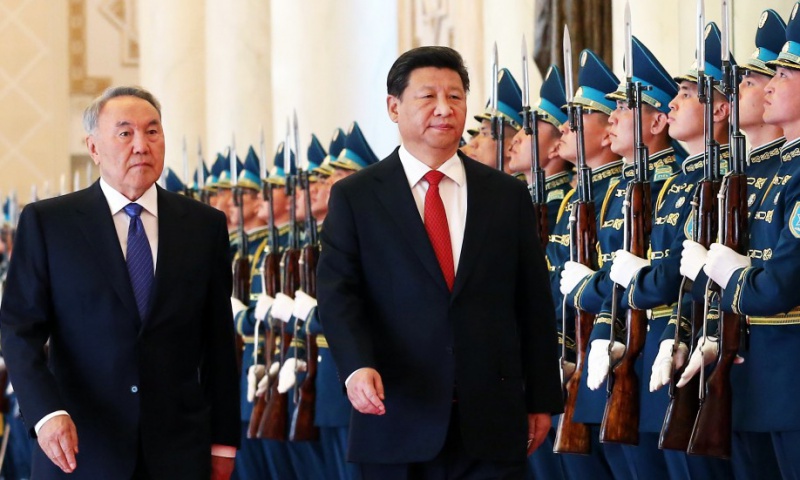 Photo: South China Morning Post.
On November 13, 2017, the government of China have arrested hundreds of ethnic Kazakh in Xinjiang, mostly businessmen, rich people and sole traders and have frozen their bank accounts, Radio Free Asia reports.
The bilateral relationship between Kazakhs and the Chinese government have promoted in several areas such as commerce and partnership over economic development. Nowadays, around 2 million ethic Kazakhs live in China, especially in the northwestern region of Xinjiang. However, over the last seven month, the situation of ethic Kazakhs in China is getting worse every day. The China's authority accused them due to disseminating illegal, terrorist, religious extremist information through social networks such as Whats App, WeChat.
Serik Muratkhan who lived in Xinjiang explained the situation as a 'strike hard' campaigns of Xinjiang. He said that 'The situation in Xinjiang is a 'strike hard' campaigns of Xinjiang government to the Uyghur's and Kazakhs. The political campaign does not start their job today; it is a policy of China which have been used from earlier. I think that it is not happening suddenly, it is a policy of China. Even the situation might be getting worse in the future'.
Dos Koshim, political scientist:
'We should follow the situation of Kazakh Diasporas, and difficulties and illegal things which they are facing in other countries.  It is a humanitarian aid of every country. In general, the situation of ethnic Kazakhs in Xinjiang is the problem of China. That is why we just can worry about the situation, and we can ask exact information through the Ministry of Foreign Affairs of the Republic of Kazakhstan. However, I have not heard any information about the problem from our official government report and Embassy of Kazakhstan in Beijing, China, within five months. If we do like this, the Chinese government will be answered to the question. However, it can show that we are not working at that level'.
Zhadi Shaken, writer
It is true that the Republic of Kazakhstan cannot affect directly to the problem. There are several ways to help to the ethnic Kazakhs in Xinjiang. Firstly, through the Ministry of Foreign Affairs of the Republic of Kazakhstan, we can send the official letter to the Ministry of Foreign Affairs of the People's Republic of China, showing exact evidence about the  difficult situation. Secondly, relatives of the ethnic Kazakhs in Kazakhstan can complain to the Embassy of China in Almaty or Astana. However, it depends on the answer of the Ministry of Foreign Affairs of China.
Thirdly, we need to send the complaint letters to official organizations of Kazakhstan. Then, they will send them to Ministry of Foreign Affairs of China. The letters between these two countries is written in the Russian or Chinese language. After that, if the situation will not solve, we can send the English version of letter to the United Nations or International Human Rights Council.